You are here: Home > Spokane, Portland and Seattle Section > BN 4260
BN 4260
BN 4260 was built May 1966 by Alco as SP&S C425 322, one of eight C425's numbered 320-327. The C425 had 2500 HP. These 8 were the second order of C425's for the SP&S. The 322 worked the SP&S lines up to the March 1970 BN Merger after which it was renumbered to BN 4260. The C425 remained assigned the the ex-SP&S shops at Vancouver, WA (as were all of the former SP&S Alco's).
The first time I saw the BN 4260 was on 6-29-72 at Auburn, WA on a train led by 2203/4260 (GP30/C425) on the Seattle-Portland main line. Both units were in BN green by this time.
Five years later I finally got my first photo of the 4260 and it was leading train #139 out of Seattle for Vancouver, WA with 4260/2540/2537/WP 3052/WP 3534 (C425/GP35/GP35/U30B/GP40) on 2-14-77. This photo shows it passing Seattle's King Street Station.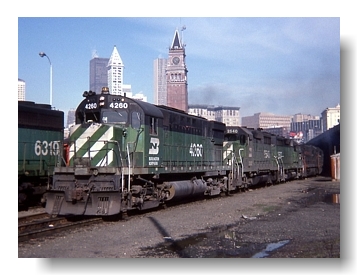 And a photo of the same #139 at Kent, WA heading south also on 2-14-77.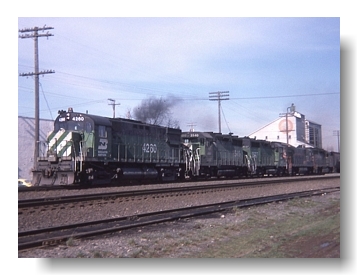 I took a roster of the 4260 at Interbay, WA exactly two years later on 2-14-79. It appears some of the SP&S yellow is starting to show through under the engineers front window. Also note the C425 is stenciled on the side sill as an A425 (Alco425).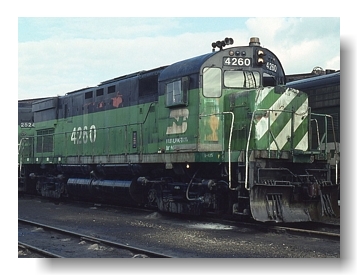 BN retired the 4260 in August of 1980. It and a number of other BN C425's were sold to the Kyle RR in 1987. Here is a photo of the 4260 in Kansas lettered for Kyle in 1982 from the Dons Depot website.
http://donsdepot.donrossgroup.net/dr1199/kyle4260.jpg
In 1990 the 4260 was then sold to the Arkansas and Missouri where it was used as a parts source to keep the roads other Alco's running, never turning a wheel in revenue service. This photo also from the Dons Depot website show the 4260 with AM markings.
http://donsdepot.donrossgroup.net/dr0203/am4260.jpg
While A&M later sold a few of the ex-BN C425's to other railroads the 4260 appears to have been scrapped, still wearing BN green paint.