You are here: Home > Spokane, Portland and Seattle Section > BN 4259
BN 4259
BN C425 4259 was built by Alco as the SP&S 321 in May of 1966, one of eight numbered 320-327. SP&S had a total of 16 C425's, the others were built before this group. These eight were the last C425's SP&S received.
After the March 1970 BN merger the C425's were renumbered to BN 4250-4265 with the SP&S 321 becoming the BN 4259. They remained assigned to the Northwest at Vancouver, WA.
First time I saw the BN 4259 was on 8-2-71 at Interbay, WA. The next time I saw the 4259 was in a consist of 4259/1850/810/2500/2201 (C425/GP9/F9A/GP35/GP30) on train #146 at Auburn,WA. My notes say the 4259 was still in SP&S colors.
On 8-21-74 I was at Black River, WA (south of Seattle) and photographed train #139 southbound with 4259/2225/2517 (C425/GP30/GP35) at 12:03 PM and the 4259 was in BN green paint.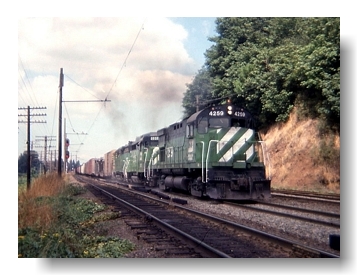 Five years later I photographed the 4259 at Vancouver, WA 5-12-79.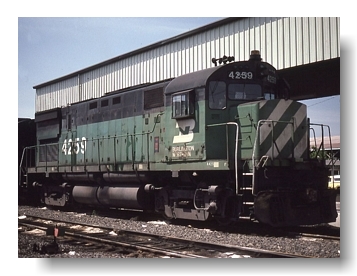 The 4259 was one of the last C425's to leave the BN roster being retired in November of 1980. It was then sold to Simon and scrapped.