You are here: Home > Spokane, Portland and Seattle Section > BN 4256
BN 4256
BN 4256 was built in August 1965 by Alco as the SP&S 316, part of an eight unit order built that year numbered 310-317.
After the March 1970 BN merger the SP&S 316 became BN 4256 and remained assigned to Vancouver, WA on the ex-SP&S.
I first saw the 4256 at 8-31-70 at Auburn, WA on a northbound with BN 806/851/735/1806/4256 (F9A/F9B/F7B/GP9/C425) headed for Seattle. All 5 locomotives were in their pre-merger colors.
The 4256 was painted BN green sometime after 1972.
On 9-12-78 while at Interbay north of Seattle I roster shot the 4256. A bit dirty the C425 still looked pretty good.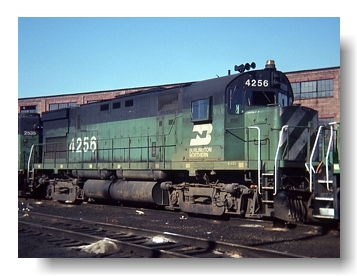 I photographed the 4256 five months later on 2-14-79, again at Interbay.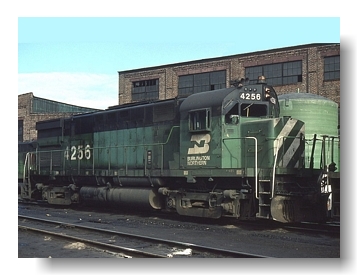 The 4256 was stored at Portland, OR in April of 1980 and was retired four months later 8/80. Kyle picked up the 4256 in February of 1982 and it went to Kansas. It kept the BN green paint but with Kyle markings.
http://donsdepot.donrossgroup.net/dr0303/kyle4256.jpg
In August of 1988 the 4256 was sold for scrap to St Louis Auto Shredding.