You are here: Home > Spokane, Portland and Seattle Section > BN 4254
BN 4254
BN C425 4254 was built by Alco for the Spokane Portland and Seattle as the SP&S 314 in July of 1965.
Here is a photo of the SP&S 314 at Pasco, WA 3-1-70 from rrpicturearchives.
http://www.rrpicturearchives.net/showPicture.aspx?id=1505265
After the March 1970 BN merger the SP&S 314 was renumbered to BN 4254 and assigned to Vancouver, WA.
I first saw the 4254 at Interbay on 7-7-70 coupled up to ex-GN F7B 9749, the 4254 in SP&S colors and the 9749 in ex-GN Big Sky Blue.
The 4254 was painted BN green by March 1973 as this photo from carrtracks at Chehalis, WA 3-22-73 shows.
http://www.carrtracks.com/wanp058bn4254.htm
I photographed the 4254 at Interbay, WA 3-19-79 and this would be the only photo I would get of the C425.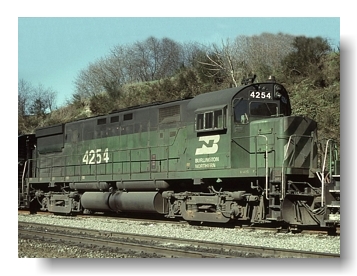 By 1980 all of the BN Alco's were in storage and the 4254 would be retired by BN in May of 1980. It was sent to J Simons & Sons in Tacoma, WA that month and scrapped.