You are here: Home > Spokane, Portland and Seattle Section > BN 4253
BN 4253
BN 4253 was built in June 1965 by Alco as the SP&S 313, part of an 8 unit order built that year numbered 310-317.
After the 1970 BN merger the SP&S 313 was renumbered BN 4253 and was assigned to Vancouver, WA for maintenance. I first noted the 4253 in the Seattle area on 3-6-71 when BN C425's 4256/4253, both still in SP&S colors led a southbound through Auburn, WA.
On 6-13-74 I photographed the 4253 at Interbay, WA after arriving on a northbound with units 4263/4253/4361/2225/809/2543 (C425/C425/C636/GP30/F9B/GP35). Note the 4253 is still in SP&S colors at this late date.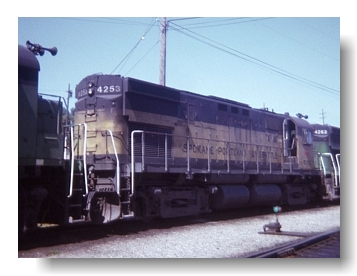 Four years later it was in BN green and northbound at Tacoma, WA 9-16-78 on train #138 led by 4362/2506/4253 (C636/GP35/C425).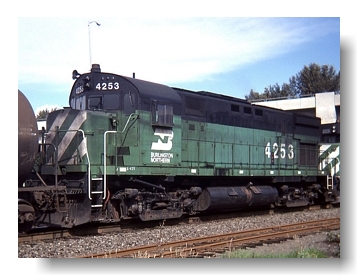 Note the BN designation of A-425 on the side sill rather than C425, the A for Alco no doubt. By 1980 all of BN's Alcos were in storage and the 4253 was retired 9/80 and sold to J Simons where it was scrapped.