You are here: Home > Spokane, Portland and Seattle Section > BN 169
BN 169
BN 169 was built as SP&S SW9 45 in October of 1951.
That year SP&S took delivery of three SW9's numbered 43-45.
After the Match 1970 merger the 45 was renumbered BN 169 and remained assigned to the former SP&S lines at Vancouver, WA. I first saw the 169 at Vancouver, WA on 6-2-73. I managed to photograph the other two ex-SP&S SW9's (167-168) but not the 169. That time finally came on 6-13-90, 5 years after the other two SW9's had been long retired. (10/85)
The 169 was working a switch job and I caught it at Argo, just south of Seattle. If I had known this was the last ex-SP&S SW9 I probably would have taken many more photos of it! But I am glad I got these two.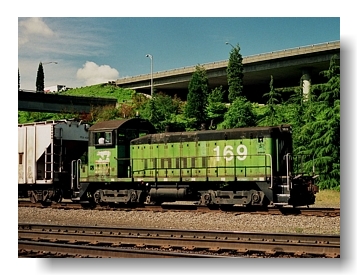 And that was the one and only time I photographed the 169. It was retired just 4 months later in October of 1990. Not sure why it outlasted the other two SP&S SW9's by five years but the 169 was sold to Rail Switching Services 8/92 and was last seen in Texas as of a year ago as RSSX 169.
http://www.rrpicturearchives.net/locoPicture.aspx?id=151573
There is no current info on the 169's status but it may be out of service now.