You are here: Home > Spokane, Portland and Seattle Section > BN 167
BN 167
BN 167 was built as SP&S SW9 43 in August of 1951. It was the first of three EMD SW9's numbered 43-45 that the SP&S ordered that year.
After the March 1970 BN merger the SP&S 43 was renumbered BN 167 and remained assigned to the ex-SP&S at Vancouver, WA. Here is a photo of the 167 still in SP&S paint at Portland, OR in 1971 from rrpicturearchives:
http://www.rrpicturearchives.net/locopicture.aspx?id=147290
Nine years later, and now in rather worn BN green I photographed the 167 in the yard at Vancouver, WA between assignments on 5-3-80.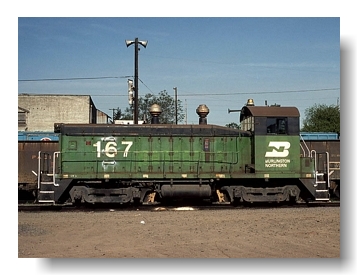 BN retired the 167 in October of 1985 and it was sold to Titan where it kept the number 167 but eventually got new paint, though it looks a lot like primer. Here are a few photos of the TITAN 167 from rrpicturearchives, and still in Washington state:
http://www.rrpicturearchives.net/LocoPicture.aspx?id=190904
Webb Asset Management eventually purchased the 167 and renumbered it to WAMX 914. It then went to the Eastern Idaho Railroad with the last photos of it I could find were from 2005, and still in that primer paint:
http://www.rrpicturearchives.net/LocoPicture.aspx?id=45171
Not sure of the current status and if it is still in Idaho or not. I'll make an update if that info surfaces.