You are here: Home > Spokane, Portland and Seattle Section > BN 1978
BN 1978
BN GP9 1978 was built in June 1956 as the SP&S #153.
SP&S ordered six EMD GP9's and all were delivered in June of 1956 and numbered 150-155. After the March 1970 BN merger the SP&S 153 was renumbered BN 1978 and remained assigned to Vancouver, WA where it had been maintained when in service on the SP&S.
I first saw the BN 1978 at Interbay, WA on 11-27-70 with BN 1976, both former SP&S GP9's. The 1976 was still in SP&S paint while the 1978 was wearing BN green.
My first photo of the BN 1978 came on 7-22-82 at Renton, WA on a day this GP9 was working the BN's Maltby Turn.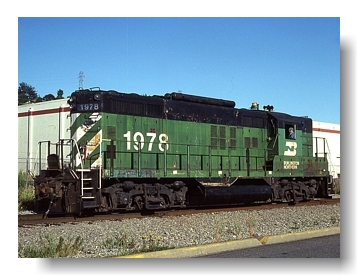 I was a bit surprised this was the only photo I took of the local that afternoon.
The BN 1978 was retired in 1990 and sent to EMD where it was rebuilt to EMDX BL20-2 120 along with two other ex-BN GP9's and then continued to work on the BN until BN decided they no longer needed them:
http://www.rrpicturearchives.net/LocoPicture.aspx?id=47958
The three BL20-2's worked for other shortlines and are currently in use on the San Joaquin Valley RR out of Bakersfield, CA. The ex-BN 1978 is now the SJVR 2120.
http://www.rrpicturearchives.net/locoPicture.aspx?id=191871