You are here: Home > Spokane, Portland and Seattle Section > BN 1976
BN 1976
BN 1976 was built as SP&S GP9 151 in June of 1965, one of six numbered 150-155. It was delivered in black and yellow as seen in this photo from 1968 at Vancouver, WA.
Paul Hobbs collection
It was painted in SP&S's later scheme before the March 1970 BN merger. After the BN merger it was renumbered BN 1976 and assigned to Vancouver, WA and continued to work on the ex-SP&S with trips up to Seattle as well.
My first sighting on the BN 1976 was on 11-27-70 at Interbay, WA in a power set of 2504/1978/1976. (GP35/GP9/GP9) My notes say the 1978 (ex-SP&S 153) was BN green but the 1976 was in SP&S colors.
Another photo provided by Paul Hobbs shows the 1976 in 1972, this B&W image taken by a photographer named Gruber.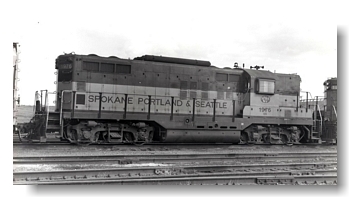 Paul Hobbs Collection
In December of 1974 the BN 1976 was renumbered into a vacant GP9 number to make way for Bicentennial units. The 1976 was renumbered to 2nd BN 1793, a number more associated with former Great Northern GP9's with dynamic brakes and bells on the long hood, of which the ex-SP&S unit lacked. The first BN 1793 was ex-GN 720, wrecked and scrapped in 1971. Thus the 1976 only wore that number for a short 4 years before becoming the second BN 1793.
I photographed the BN 1793 twice while in service, both times at Interbay. First was on 6-29-77.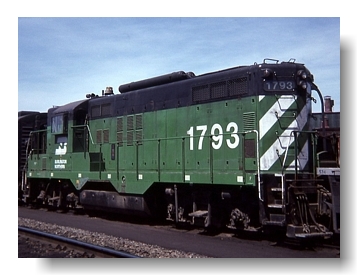 And the second time was on 8-17-78 showing the other side of the GP9.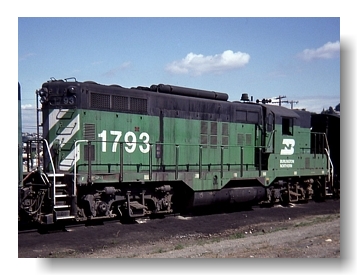 I photographed the BN 1793 one last time on 2-5-83 at Portland, OR in storage.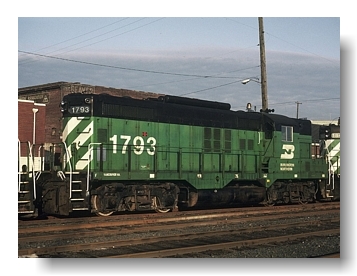 The GP9 was retired 7/83 and sold to Simon the next month for scrap.