You are here: Home > Spokane, Portland and Seattle Section > BN 1975
BN 1975
BN GP9 1975 was built in June 1956 as the SP&S #150.
A long time purchaser of Alco road power SP&S ordered 6 EMD GP9's and all six were delivered in June of 1956 and numbered 150-155.
So the SP&S 150, later to become the BN 1975 was the first of the GP9's SP&S ordered. As delivered the SP&S GP9's were set up long hood first, as were the Great Northern GP9's. The 150-153 were delivered with steam generators for passenger train service.
Here is a photo from rrpicturearchives showing the 150 in SP&S paint.
http://www.rrpicturearchives.net/showPicture.aspx?id=1502478
After the March 1970 BN merger the SP&S 150 was renumbered BN 1975 and remained assigned to the ex-SP&S at Vancouver, WA along with the other 5 ex-SP&S GP9's.
When the 1975 was repainted BN green the white stripes appeared on the long hood end as the GP9 was still set up to run long hood first.
My first photo of the 1975 came on 6-23-77 at Interbay, WA, the photo taken from the short hood end which would make it the rear of the GP9.
On a trip to Vancouver, WA of 7-18-82 I photographed the BN 1975 at Vancouver, WA.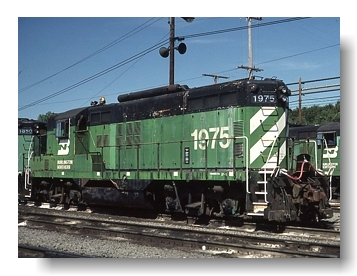 The 1975 was retired in June of 1985 and was originally donated to the Museum of Transportation at St Louis, MO where it was photographed on 5-25-86 by Chuck Zeiler:
http://www.rrpicturearchives.net/showPicture.aspx?id=3349304
As noted in the caption the GP9 was traded to Morrison-Knudsen for two E9's. The 1975 was rebuilt and sold to Neosho Construction as number 6400. Here are photos of the NCCX 6400:
http://www.rrpicturearchives.net/LocoPicture.aspx?id=31823
Nice to see that this ex-SP&S GP9 is still in service today.