You are here: Home > Spokane, Portland and Seattle Section > BN 4369
BN 4369
BN 4369 was built by Alco as the SP&S 343 in November of 1968.
It was the last big Alco that the SP&S purchased. With it, there were ten of the big 3600 HP locomotives on the SP&S roster.
After the March 1970 BN merger the SP&S 343 was renumbered to BN 4369. The ten ex-SP&S C636's were now numbered BN 4360-4369 and assigned to Vancouver, WA. I first saw the 4369 9-24-72 on train #139 at Auburn, WA in a consist of 2227/2203/2200/4369/SP 6679 with the 4369 still in SP&S colors.
On 8-2-77 I photographed the 4369 leading northbound train #148 at Seattle with units 4369/4360/2510 (C636/C636/GP35), the first and last BN C636's on the same train.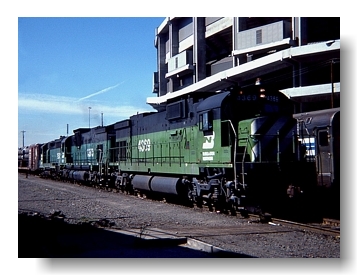 One other photo I have of the 4369 is a rear end view from 3-6-75 at Interbay, not of the best quality but it is a roster shot of the 4369.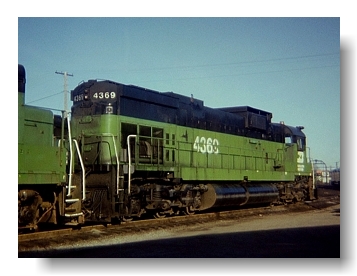 The 4369 was retired in the big Alco purge of 1980, leaving the BN roster in August of 1980. Details are sketchy but reports say the 4369 went to Australia as the Robe River 9424 along with C636 4366 which was scrapped in 1980 but parts of it were used on Robe River 9417. They were designated CM40-8M. Further research shows both are no longer in service.