You are here: Home > Spokane, Portland and Seattle Section > BN 4361
BN 4361
BN 4361 was built as SP&S 331 in December of 1967. It was the second of six Alco C636's built for the SP&S numbered 330-335 in 12/67-1/68.
After the March 1970 BN merger the SP&S 331 was renumbered BN 4361 and remained assigned to Vancouver, WA, where it had been assigned to on the SP&S.
I first saw the 4361 on 8-11-71 at Auburn, WA leading a northbound freight towards Seattle and noted the C636 was still in SP&S colors.
Some six years later on 9-6-77 I photographed the 4361 at Interbay, WA in pretty nice looking BN green paint.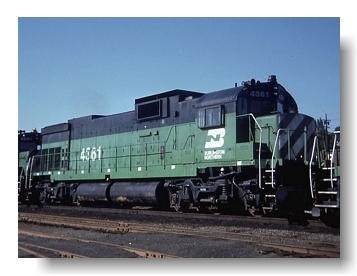 Here is the other side of the 4361, again at Interbay on a rather hazy 11-13-78.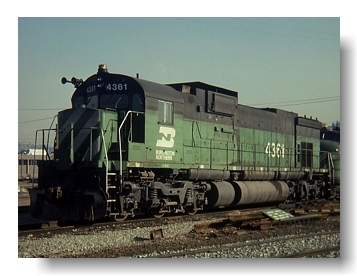 The 4361 was the third unit of train #139 leaving Seattle on 7-24-79 and is and is putting on a smoke show as the train accelerates out of Argo. Note how the tight angle compresses the rather large locomotive into something much smaller looking than it actually is.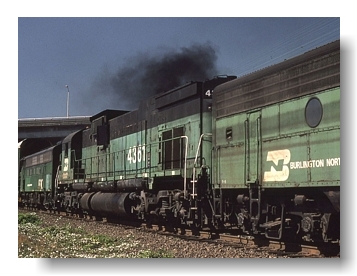 In this photo at Argo a few weeks later on 8-8-79 the 4361 looks as large and long as it really is.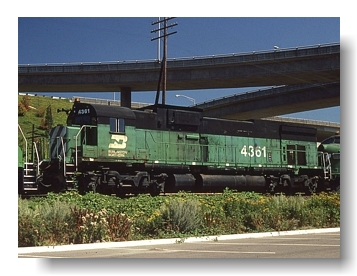 And a rear view of the 4361 at Argo 8-8-79.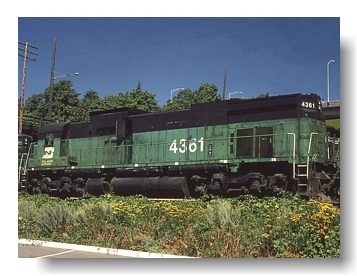 The next time I photographed the 4361 was at Portland, OR 5-3-80 and it was in storage by this time with all of the other BN Alcos.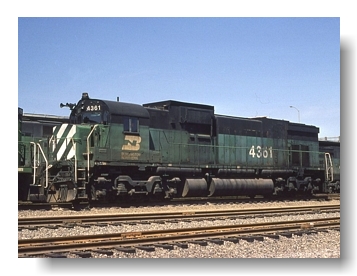 The 4361 was retired just three months later in August 1980 and was shipped back to Silvis, IL where it was scrapped.