You are here: Home > Spokane, Portland and Seattle Section > BN 4245
BN 4244
BN C424 4245 was built by Alco as the SP&S 305 in June of 1964, one of seven C424's ordered by the SP&S and numbered 300 to 306. They were maintained at Vancouver, WA.
After the March 1970 BN merger the SP&S 305 was renumbered to BN 4245 and continued to be assigned to Vancouver, WA.
My notes say I saw the BN 4245 twice. First on 10-1-70 and again on 11-15-70, both times at Interbay and in SP&S paint.
Though I never photographed the 4245 I did purchase a slide of it on eBay. This slide shows it at Wishram, WA in February of 1971.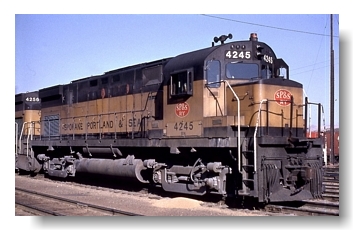 Photographer unknown
Brian Ambrose collection
The 4245 was destroyed in a collision the night of 7-16-71. From the SP&S Facebook page comes this info. BN 4245 was the second unit on a train headed towards Bend, OR which stopped at a red signal near Deschutes Jct, OR. As the crew called Bend the headlights of the train soon caught sight of four boxcars heading towards them at a high rate of speed about 11:20 PM. Further research shows this was a southbound BN train with units 4261/4245/WP 3021/WP 3020 (C425/C424/GP35/GP35) and the four boxcars had rolled out of the Bend yard striking the train about 50 MPH. The first three units burned and were scrapped, the WP 3020 was rebuilt. Two crewman perished while another survived. It is likely the 4245 was still in SP&S paint when wrecked. More info and photos can be found here:
http://www.waymarking.com/waymarks/WM17Y9_1971_Wreck_at_Deschutes_Junction_Oregon