You are here: Home > Spokane, Portland and Seattle Section > BN 4243
BN 4243
BN 4243 was built as SP&S 303 in June of 1964.
The 2400 HP Alco was one of seven C424's numbered 300-306. All were built for the Spokane Portland &Seattle in 1964 and were assigned to the Vancouver, WA shops.
After the 1970 BN merger the SP&S 303 was renumbered to BN 4243.
The first time I saw the BN 4243 was at Auburn, WA 8-30-72. Southbound train #139 that day had units 2229/4243/2224/2219 (GP30/C424/GP30/GP30) and the 4243 was BN green by then.
On 9-7-77 I photographed the BN 4243 at Interbay and it already had some touch up paint applied to it by then.
Almost a year later on 8-6-78 the 4243 was photographed at Argo in Seattle.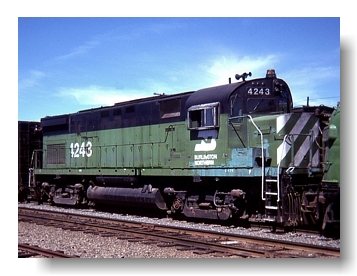 Note it says A424 on the front side sill. I guess BN considered it not a Century but an Alco.
On a trip to Vancouver, WA 5-12-79 the BN 4243 arrived all by itself on a westbound local.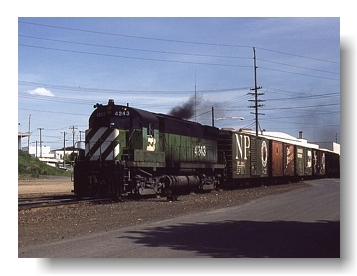 That would be the last time I would photograph the 4243 as it was retired by the BN in August of 1980.
The 4243 was sold first to the Kyle Railroad in late 1980 and remained in BN green with Kyle reporting marks. The following photos are all from rrpicturearchives.
http://www.rrpicturearchives.net/showPicture.aspx?id=1956300
The 4243 was then sold to Massachusetts Central Railroad in 1988 where it kept the same BN number but got a new paint job. It stayed on the MCER into 1998.
http://www.rrpicturearchives.net/LocoPicture.aspx?id=7518
Next came the Adirondack Scenic Railroad in 1998 where the 4243 was repainted once again but now pulled passenger excursions in New York. Some very nice photos of it here:
http://www.rrpicturearchives.net/LocoPicture.aspx?id=47636
Then in 2012 the 4343 became the Delaware-Lackawanna 2403 and was shipped to Scranton, PA.where as on 9-6-15 it remains in service.
I already had a bucket list of Lancaster, PA (mentioned in the 1964 Northern Pacific record album) and the Reading, Blue Mountain and Northern (Reading inspired paint scheme) that were places in Pennsylvania I wanted to visit and now it looks like I have a good excuse to head to Scranton, PA as well.