You are here: Home > Spokane, Portland and Seattle Section > BN 4241
BN 4241
BN C424 4241 was built in June of 1964 as the SP&S 301. It was one of seven built by Alco for the Spokane, Portland &Seattle numbered 300-306.
After the 1970 BN merger the SP&S 301 was renumbered to BN 4241 and was assigned to Vancouver, WA on the ex-SP&S.
On 11-7-70 while at Auburn, WA I saw a northbound BN freight with units 4241/4263 (C424/C425) pass by headed for Seattle. Both were in SP&S colors.
This really nice photo from RailPictures.net shows the 4241 still in SP&S paint on the WP in April of 1971:
http://www.railpictures.net/viewphoto.php?id=389918
I photographed the BN 4241 just once, and that was on 12-30-75 at Interbay, by then in BN green paint.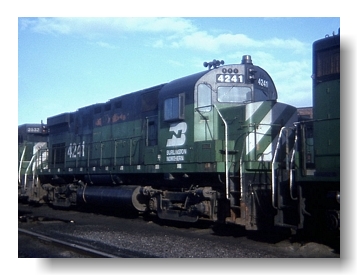 The last time I noted the 4241 in service was on 3-24-79 on train #139 with 4262/2527/2536/4362/4241. In May 1980 I made a trip to Vancouver and Portland and saw many stored BN Alco's but the 4241 was not among them. It may have been stored elsewhere on the BN. The 4241 was officially retired in June 1980 and sent to the J Simon and Sons scrapper at Tacoma, WA. I photographed it at Tacoma on 9-4-80 before it was moved over to J Simon's to be scrapped.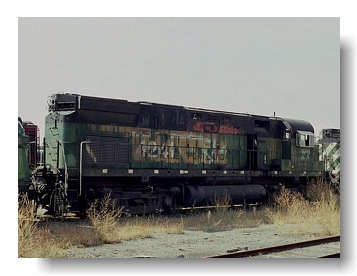 Note it has been pretty well stripped of anything not bolted down including the number boards. Also of interest is the SP&S paint showing through on the long hood. That was the last photo I took of the 4241 which was no doubt scrapped not long afterwards.