You are here: Home > Spokane, Portland and Seattle Section > BN 4240
BN 4240
BN 4240 was built as SP&S 300 in June 1964.
The 2400 HP Alco was one of seven C424's numbered 300-306 all built for the SP&S in 1964.
Here is a photo from rrpicturearchives showing it at Wishram, WA in 1968:
http://www.rrpicturearchives.net/showPicture.aspx?id=1504466
After the March 1970 BN merger the 300 became BN 4240 and was assigned to Vancouver, WA. Though I never saw the SP&S 300 I did see the BN 4240 still in ex-SP&S paint on 10-1-70 at Interbay, WA.
My first photo of the 4240 was taken on 5-19-78 in Seattle, well after it had been painted BN green.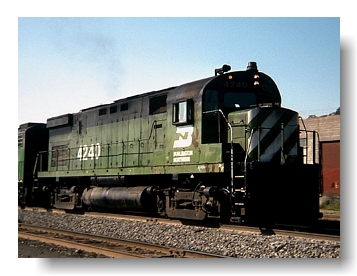 Here the 4240 is leaving Seattle headed southbound the same day with train #149 at 6:32 PM. Power is 4240/845/2500 (C424/F9B/GP35)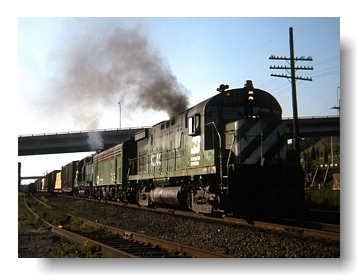 By early 1980 the BN 4240 could be found in storage at Portland, OR along with most of the other BN Alcos. Retirement came August 1980 and the 4240 was sold to Chrome Crankshaft and then to the Kyle Railroad. It was later sold to the Arkansas & Missouri Railroad as a parts source and has since been apparently scrapped.