You are here: Home > Northern Pacific Section > BN 5720
BN 5720
BN 5720 is the ex-NP 3305.
NP's ten GE U33C's were built in July 1969 and numbered 3300-3309. They were on the NP's roster just 8 months when the BN merger occurred.
Since this is February, and the 3305 was only on the NP for one February, that being 1970 I was curious to see how many times the 3305 led trains through Easton heading to and from Stampede Pass. As I have the Station Record of Train Movements booklet from Easton, WA for February 1970 it was easy to check out. Final tally was 4 times, twice east and twice west between 2/17 and 2/22.
After the March 1970 BN merger the ex-NP U33C's were renumbered BN 5715-5724 with the NP 3305 becoming BN 5720. On the NP the 3305 was assigned to Livingston, MT and on the BN the 5720 remained assigned to the ex-NP shops there.
I first saw the 5720 arriving Auburn, WA after a trip across Stampede Pass on 8-31-70. The westbound had units 5720/5634/3036/CB&Q 961/824 (U33C/U25C/GP40/unrenumbered GP30/F9A) It was noted that the 5720 was still in NP colors.
Here is a photo of the 5720 still in NP colors off of rrpicturearchives from 1971.
http://www.rrpicturearchives.net/showPicture.aspx?id=3068004
By 1973 the 5720 was in BN green paint as this great photo from RailroadPictures.net shows.
http://www.railpictures.net/viewphoto.php?id=495592
My first photo of the 5720 came on 5-28-75 at Auburn, WA taken with my primitive Instamatic camera. Not a great image but nice to see this ex-NP U33C at the ex-NP facility of Auburn.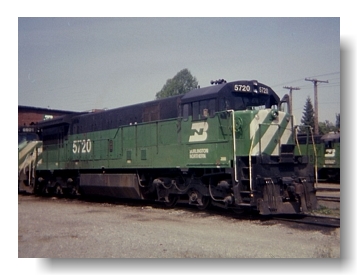 The 5720 had led a train westbound across Stampede Pass the night before as this page from the Easton, WA Station Record of Train movements from shows. The page dated 5-27-75 shows the 5720 West was by Easton at 925 PM.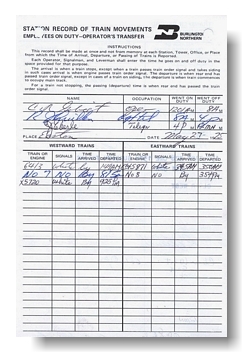 A few years later on 11-16-77 I photographed the 5720 once more (with the Instamatic) at Interbay, WA. Quality is a little better at least.
Note the U33C still has the NP nose mounted Pyle Gyralight but the original red lens had been replaced with clear before my 1975 photo.
The 5720 was the only ex-NP U33C to leave the BN roster with wreck damage. On 12-8-78 the 5720 was a trailing unit when it was one of three units destroyed in a head on collision at Zurich, MT on the ex-GN. The 5720 was on the NP less than 8 months and on the BN for less than 10 years.