You are here: Home > Northern Pacific Section > BN 5715
BN 5715
BN 5715 was built by GE as the NP 3300 in July of 1969, the first of a ten unit order of U33C's numbered 3300-3309.
This photo of the NP 3300 is from the Keven Piper collection and shows the NP 3300 at Minneapolis, MN 9/69, just a few months old.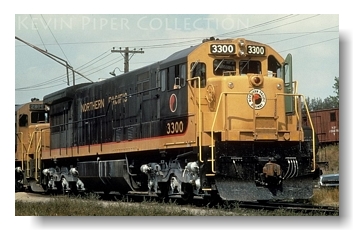 Photo by Kevin Piper
On Saturday 11-1-69 I was at Easton, WA as a westbound was switching log flats in the yard with units 3307/3301/3300/7001D (U33C/U33C/U33C/F9A) That was the last time I saw the 3300 before the BN merger and it was renumbered BN 5715.
First time I saw the 5715 was 8-22-70 on a westbound at Easton, WA led by 5670/5671/5715/1847 (U28C/U28C/U33C/GP9) and all four still in NP colors.
Late in 1971 ex-NP U33C's 5715 and 5716 were equipped with Locotrol equipment to operate as masters and assigned to Glendive, MT for coal service.
By 1977 the 5715 was no longer in assigned coal service but released to the general freight pool. I photographed the 5715 at Interbay 8-12-77.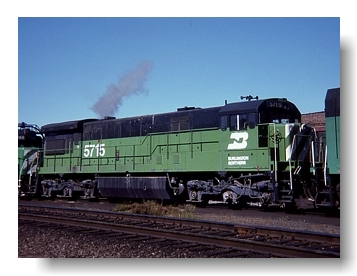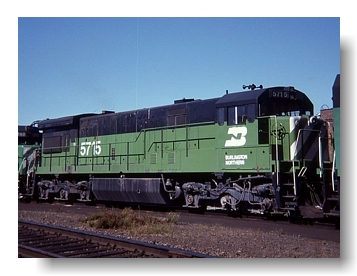 The 5715 drew an unusual assignment the following week on 8-17-77 when I caught the power for Amtrak train #9, BN 5715/AMTK 538/AMTK 533 (U33C/SDP40F/SDP40F) returning to Interbay for servicing. It's a bit blurred but it does show the 5715 with Amtrak power.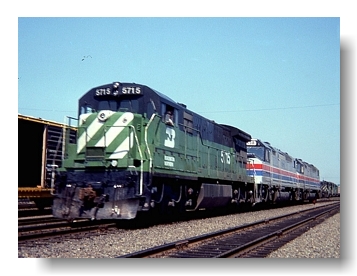 By 1979 BN's U33C's were going into storage and the 5715 was retired in 1984, sold to PNC and scrapped.