You are here: Home > Northern Pacific Section > BN 5616
BN 5616
BN 5616 is the ex-NP 2516. It was part of the NP's second order of GE U25C's built 4-5/65 numbered 2515-2529.
Here is a photo from rrpicturearchives of the NP 2516 on the CB&Q in Illinois being delivered to the NP 5-27-65:
http://rrpicturearchives.net/showPicture.aspx?id=2937616
The 2516 was maintained at Livingston, MT but in all my trips to Auburn and Easton I never did see the 2516 before the BN merger.
However, shortly after the March 1970 BN merger I did see the BN 5616 lead a westbound off Stampede Pass into Auburn, WA on 7-26-70. This westbound had units 5616/NP 2525/5639/NP 337 (U25C/U25C/U25C/GP9) The 5616/NP 2525 and NP 337 in NP colors and the 5639 in CB&Q red. The 5616 was noted in the 1972 BN Annual as being maintained in the Twin Cities Region.
Sometime after it was repainted BN green. On 5-31-78 I was at Interbay, WA and photographed the BN 5616 there: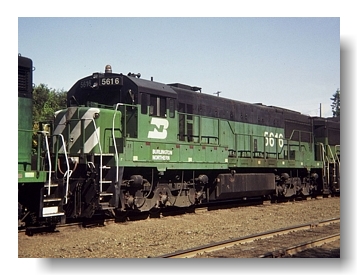 Besides the green paint one change was removal of the red nose warning light with the front opening plated over.
There is one more great photo of the BN 5616 I found on the internet of it leading a nice consist of power at St Johns, OR in 1979:
https://thumbs.worthpoint.com/zoom/images1/1/0816/01/bn-u25c-5616-leads-milwaukee-sd40s-bn_1_81271363f6cf233ca34ba02c86225f19.jpg
The 5616 was stored like many other U-boats in 1980 and it was retired 3/81 and sold to Naporano and scrapped.