You are here: Home > Northern Pacific Section > BN 5609
BN 5609
NP 2509 was part of an order of 15 GE U25C's delivered in June-July of 1964 numbered 2500-2514. The new U25C's went right into the transcontinental pool after delivery.
In service on the NP
In checked my notes I have found three sightings of the NP 2509.
05-17-69 #606 2811/2509/3618/217 (U28C/U25C/SD45/GP9) Easton, WA 6:35 PM
(This was a detoured NP train off the Milwaukee Road and back onto the NP at Easton)
05-24-69 #640 7014A/2811/2509/3620 (F9A/U28C/U25C/SD45) Easton, WA 7:22 PM
09-20-69 #603 3600/3623/2509/331/220/6019B/6017B/250/337 Arr Auburn, WA 4:30 PM
(SD45/SD45/U25C/GP9/GP9/F7B/F7B/GP9/GP9)
After the March 1970 BN merger the 2509 was renumbered to BN 5609.
Here is a photo of the BN 5609 still in NP paint from 1970 found on RailPictures.net:
http://www.railpictures.net/photo/354417/
In 1973 the 5609 was noted as being assigned to Minneapolis Jct. From what I recall, BN's U25C's were used in coal and ore train service in the early 1970's.
I photographed the BN 5609 the first time I saw it at Interbay, WA 8-26-78. By then it had been released to general freight service.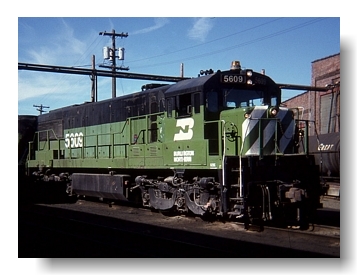 Note that the red nose warning light is clear and is also working.
After the power was pulled out into the clear I was able to get a rear end roster shot of the U25C.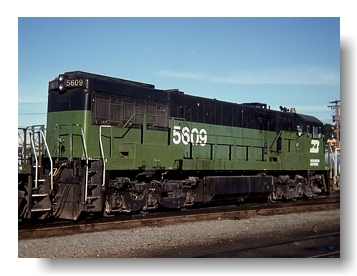 Placed into storage by the beginning of 1980 along with the other U25C's, the 5609 was retired in 1981 and scrapped.