You are here: Home > Northern Pacific Section > BN 216
BN 216
MRL SW1200 18 has been in storage for awhile at Livingston but on a Dec 2007 trip I got a decent photograph of the ex-BN switcher in the deadline.
The 18 was built as the NP 157 in July of 1957 and was assigned to the Tacoma Division.
My first encounter with the SW1200 was on 4-15-75 well after the BN merger. It was at Auburn, WA on that date and was painted BN green and numbered 216 at the time. It remained assigned to the Northwest while in service on the BN. This photo of the 216 was taken at Tacoma, WA on 3-1-78.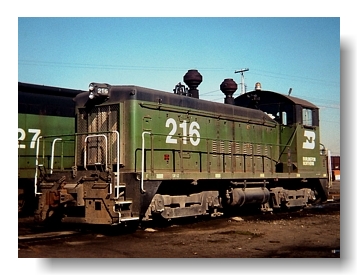 I happened to photograph the 216 again exactly 3 years later on 3-1-81, and also at Tacoma, WA.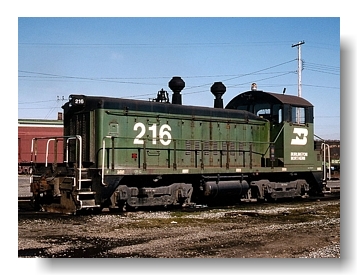 In October of 1987 the 216 left the BN and was acquired by the MRL as part of their startup. It was renumbered 18 and painted by 1989. There were 7 SW1200's on the MRL numbered 12-18 making this one the final SW1200 of the series. The SW1200's could be found most often working at Laurel or Billings. Age started to catch up with the 18 and by 2007 it was in storage at Livingston, MT. More than 50 years after it was built on 12-15-07 I photographed the 18 stored at Livingston.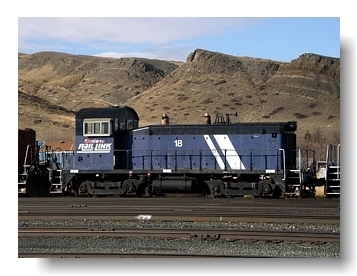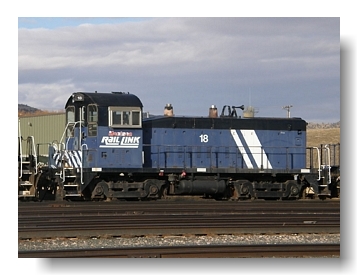 The 18 as well as SW1200 12 were sold to NRE and shipped to Silvis, IL in June of 2014. The 18 was renumbered 181 before the trip and the last info has the ex-MRL18 in Illinois.