You are here: Home > Northern Pacific Section > BN 207
BN 207
BN 207 was built by EMD as NP SW1200 148 in February of 1957 as part of a two unit order numbered NP 147 and 148. Both these SW1200's were built with hump controls and sent to the Idaho Division for use at Pasco, WA. Both the 147 and 148 were later sent to the Tacoma Division.
After the March 1970 BN merger the NP 148 was renumbered to BN 207 and was assigned to Vancouver, WA.
My first time seeing the BN 207 was on 4-28-73 while riding Amtrak from Seattle to Portland, OR. The 207 was at Vancouver, WA and in BN green.
Later the BN 207 moved north to the Seattle area where I photographed it at Stacy Street yard 8-12-83.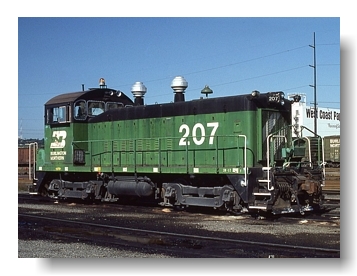 Note the two marker lamps on the front of the switcher. Some NP SW1200's had marker lamps but not all. Not sure about the NP 148 as I have not been able to find a photo of it.
The 207 remained on the BN roster until 2/92 when it was sold to Titan Railway Service. It is currently in Kansas City, MO as the WAMX 1205 with KCT lettering on the long hood. Photos of the ex-BN 207 as WAMX 1205 can be found here:
http://www.rrpicturearchives.net/LocoPicture.aspx?id=63897
Looks pretty good for its age! Kind of makes me want to go to Kansas City and get some photos of it.