You are here: Home > Northern Pacific Section > BN 201
BN 201
During 1957 Northern Pacific SW1200's 130-145 were built by EMD and after delivery were assigned to different parts of the NP system. Our subject is one of these sixteen, the NP 142. It was assigned to Missoula, MT after it was placed in service and by 1969 it was reassigned to the Idaho Division as a switcher at Pasco, WA.
Apparently the NP 142 was moved west to Pasco, WA right after the 1970 BN merger without being renumbered first. There is a photo of the NP 142 in the Northern Pacific Diesel Era book by Schrenk/Frey on page 153 that shows the NP 142 at Pasco, WA in September of 1970, six months after the BN merger took place and before it was renumbered to BN 201.
It is likely the NP 142 was renumbered BN 201 while at Pasco. By 1973, the BN 201 was reassigned to Vancouver, WA and painted BN green soon after.
On 3-25-87 I photographed the BN 201 at Stacy St yard in Seattle. Note it is still stenciled for Vancouver, WA on the side sill under the cab.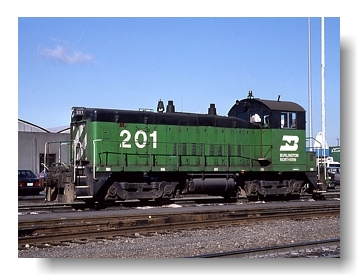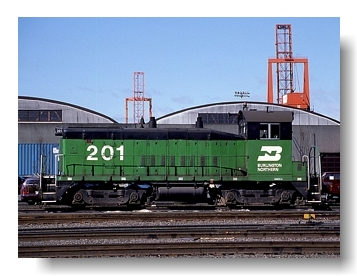 The next time I photographed the 201 was on 7-31-95 at Argo, WA working a local switch job.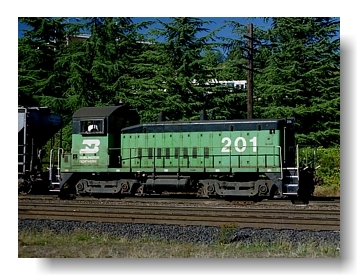 By this time it was assigned to Interbay for maintenance.
After the BNSF merger the BN 201 was renumbered BNSF 3539 on 6-17-98 and repainted H1 in October 1999.
Here is a photo of the 3539 at Balmer Yard in Seattle 4-23-02.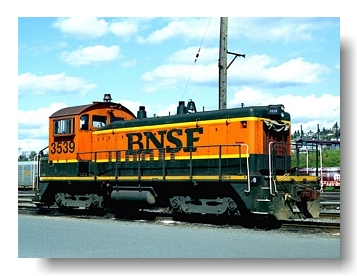 The BNSF 3539 lasted 4 more years and was retired 10-5-06. It was sold to NRE in 2007 and that was the last bit of info on this SW1200.