You are here: Home > Northern Pacific Section > BN 195
BN 195
BN SW1200 195 was built by EMD in June of 1956 as Northern Pacific 136. It was one of six NP SW1200's numbered 135-140 from order 4335.
As built it produced 1200 HP as was equipped with M.U. equipped for freight service. In 1969 NP 136 was noted as being assigned to the Yellowstone Division at Laurel, MT. After the 1970 BN merger the NP 136 was renumbered to BN 195. It remained assigned to Laurel, MT into at least the mid-70's.
When I first saw the BN 195, it was working in the Seattle, WA area at West Seattle on 12-24-87.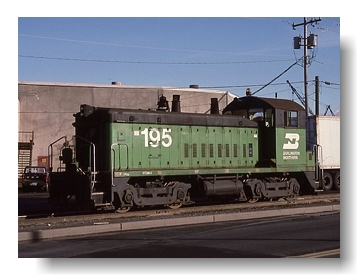 A few observations. It is stenciled Interbay on the side sill for maintenance. It has no side handrails as most SW1200's I saw were equipped with after the BN merger.
Even some still wearing NP paint but sublettered BN had the handrails added. Interesting that the 195 lacks these handrails even 17 years after the BN merger.
The 195 was retired by BN in in August 1991 and sold to Nucor Steel as NUCX 195. I have not seen any photos of the 195 since Nucor purchased it.