You are here: Home > Northern Pacific Section > BN 6420
BN 6420
BN 6420 was built in April of 1968 by EMD as NP 3620.
The 3620 was the first of Northern Pacific's third order of SD45's numbered 3620-3629.
I first saw the NP 3620 on Saturday 5-24-69 at Easton, WA heading east on train #640 with units 7014A/2811/2509/3620 (F9A/U28C/U25C/SD45).
After the March 1970 BN merger it was renumbered to BN 6420 and initially assigned to Livingston for maintenance as it had been before the BN merger. By 1973 the 6400-6420 were all assigned to Interbay and in 1974 the entire ex-NP series of 6400-6429 went to Havre where they remained assigned until being retired.
I first saw the BN 6420 on 1-11-74 in the engine facility at Interbay and it was painted BN green. My first photo of the 6420 was at Auburn, WA 10-13-77 and the red warning light on the nose had been removed by that time.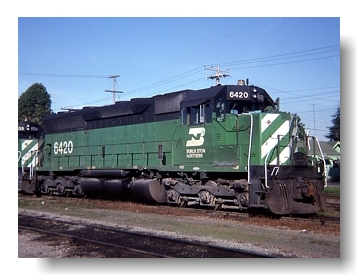 My only action shot of the 6420 leading a train was on westbound train #97 at Malaga east of Wenatchee, WA 7-8-78.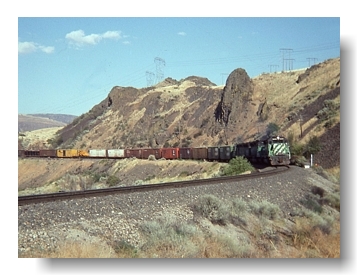 Three years later on 4-17-81 the 6420 was photographed at Interbay. Note the Havre stencil.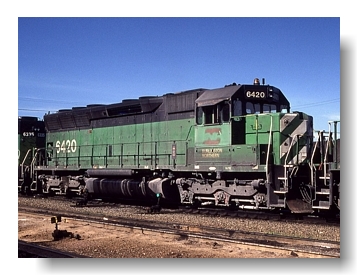 And my final shot of the 6420 was on 9-15-84 on the ex-NP at Yardley in Spokane, WA. Note the NP snowplow is gone in this image.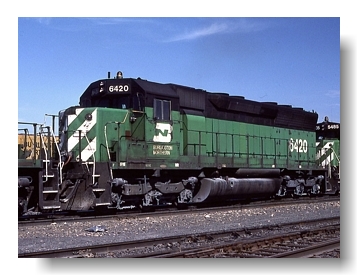 That last photo was taken in 1984. BN retired the 6420 in 1986 and instead of being scrapped was sold to VMV. Here is a photo found on rrpicturearchives of the VMV 6420 from 1991.
http://www.rrpicturearchives.net/showPicture.aspx?id=3983852
In 1995 the 6420 was rebuilt by VMV to Kansas City Southern SD40-3 #616 with a V-16 645E3 engine and "Dash 2" electrical cabinet but it still looked like an SD45. On a trip to the KCS in 1999 I managed to catch the KCS 616 leading train #11 in Missouri 6-10-99.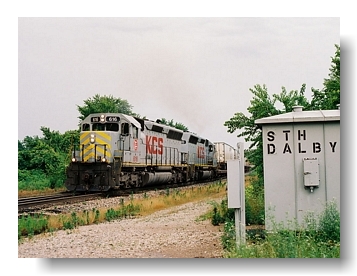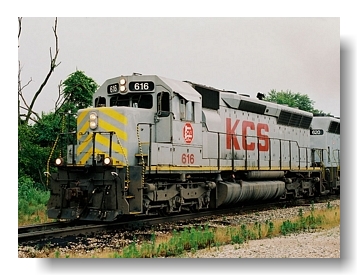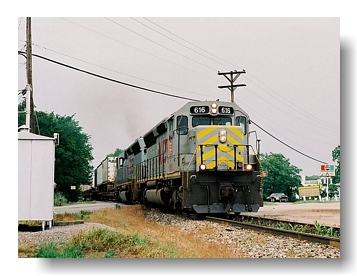 Later the KCS 616 was renumbered to KCS 3118. Here is a photo of the 3118 on the BNSF at Minneapolis, MN 12-16-08.
http://www.rrpicturearchives.net/showPicture.aspx?id=1427393
It is probable the KCS 3118 had been retired in this photo as info I have shows the 3118 sold and scrapped by Progress Rail in January 2009. Could this have been one last trip on the ex-NP at Minneapolis before being cut up for scrap? Kind of looks that way.