You are here: Home > Northern Pacific Section > BN 6403
BN 6403
BN SD45 6403 was built by EMD as the Northern Pacific 3603.
NP 3603 was one of Northern Pacific's early SD45's from the first group of four numbered 3600-3603 built in July of 1966.
I even saw the 3603 though it was on 6-27, 1970 a few months after the March 1970 BN merger, and in former GN territory at the Interbay service facility north of Seattle. The next time I saw this SD45 was on 12-30-71, again at Interbay but this time it was the BN 6403, and it still wore NP paint. During this time ex-NP SD45's 6400-6404 were assigned to Interbay. By 1973 the 6400-6420 were all assigned to Interbay.
This set up the night in July 1974 when I was up at Interbay. The crew for train #82 came into the Foreman's office to sign in. They were about to take 6403/6440/6507/6596 (3 SD45's/SDP45) out to the train and head east over Stevens Pass. I knew the engineer and he invited me to ride along to Wenatchee which was an offer I could not pass up. It would of course turn out to be a great ride in an ex-NP SD45 I will never forget. Still, by then the 6403 was BN green and seemed like just another BN SD45 to me. 42 years later it would become very special.
My first photo of the BN 6403 was taken on 1-20-77 at Interbay with a primitive Instamatic camera. Not a great photo by any means but still it is the 6403. If I recall correctly, the NP red warning light on the nose was gone at the time of my 1974 ride as well.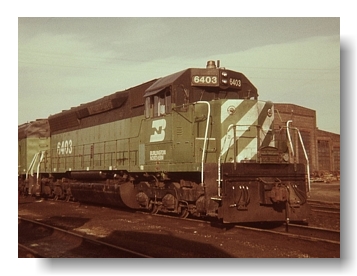 I took a much better photo of the 6403 at the ex-NP shops at Auburn, WA 7-7-80. Fitting to photograph it at this ex-NP facility.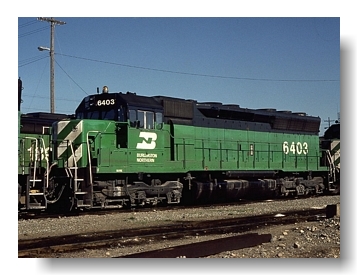 The 6403 was retired by the BN six years later in August of 1986, just a month over 20 years old. It was sold to Naporano Iron and Metal and scrapped.
However the number boards of the 6403 were saved and a friend acquired two of them late in 2015 and offered one for sale to me at a very reasonable deal. Of course my answer was yes! On 1-16-15 I picked up the BN 6403 number board from my friend at Auburn, not far from where I last photographed it! Though it was well worn, it is a bit of history that survives from the same SD45 I once rode in 1974. On my way home with my new prized possession I decided to stop by the ex-NP depot in Kent to take a few photos of me with my little bit of the 6403. This is one of those photos.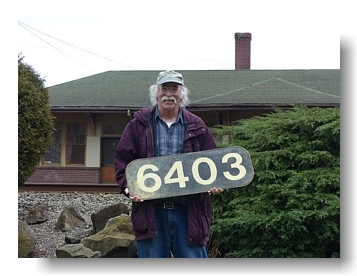 BN SD45 6403 may be gone but at least a part of it survives right here, displayed on the wall above my computer..