You are here: Home > Northern Pacific Section > BN 4184
BN 4184
BN 4184 was an 1800 HP RS11 built by Alco as Northern Pacific 904 in July 1958. It was assigned to the St Paul Division as were the rest of NP's RS11's when delivered. At some point in the late 1960's the 904 received NP's simplified paint scheme.
After the March 1970 BN Merger it was to be renumbered to BN 4184 but there is a photo in the NP Diesel Era book (page 171) showing the 904 leading a train in Superior, WI in September 1970 so renumbering took awhile.
By 1971 it was renumbered to 4184 and reassigned to Vancouver, WA as were the rest of the Alco's and saw service around much of the Northwest. I first saw the 4184 at Interbay, WA on 6-14-71 in NP's simplified paint.
Five years later I photographed the 4184 at Interbay on 2-9-76, still in NP paint!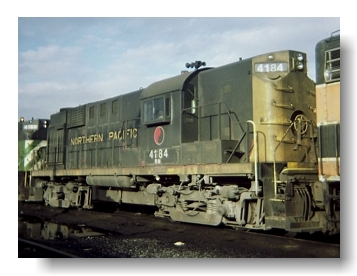 It was no doubt painted BN green shortly after that photo was taken. But it was not green in active service very long as it was retired a little more than 4 years later in August 1980 and sent to J. Simons in Tacoma, WA for scrapping where I caught it on 10-2-80.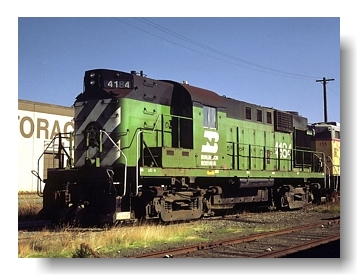 A month later on 11-4-80 I saw the 4184 again in Tacoma but it looks like someone got to the RS11's numberboards. (it wasn't me!) Here it sits with some retired UP power also awaiting scrapping.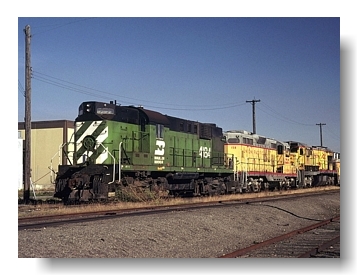 And one final image of the BN 4184 at Tacoma, WA on 11-4-80.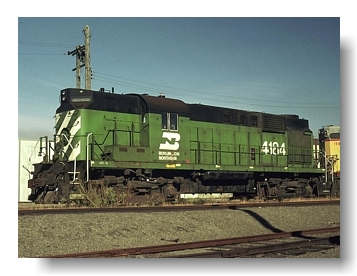 I find it interesting to note that the 4184 was in NP paint longer than BN green after the 1970 merger. Which is probably why the green paint on the 4184 was looking pretty good at the time is was retired.