You are here: Home > Northern Pacific Section > BN 1855
BN 1855
This update is of BN GP9 1855 which was built as NP 229 in June of 1955. It was built without dynamic brakes and had a 2200 gallon fuel tank with air tanks mounted on the roof.
From the information I have seen, the NP 229 was always assigned to theTacoma Division. First time I saw the NP 229 was on 9-25-68 at Easton, WA on an eastbound freight led by six NP GP9's the 334/229/265/280/336/216. Unusual to see this many GP9's without dynamic brakes crossing Stampede Pass on a single train!
It was still assigned to Auburn, WA at the time of the BN merger in 1970 when the 229 was renumbered BN 1855. I first saw it at Tacoma, WA on 12-26-70 still in NP colors but sublettered for BN. By 1972 the BN 1855 was assigned to Hillyard in Spokane and I would imagine repainted green at that time. By 1973 it was moved across town to Parkwater where it remained assigned to Spokane through the 1970's. This photo of BN GP9 1855 was taken at Wenatchee, WA on 7-7-79, a former Great Northern facility on the east side of Washington state.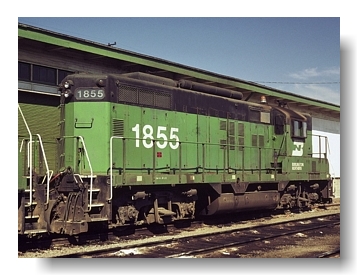 There is a missing set of louvers on the long hood meaning that this GP9 was repainted into the NP's simplified paint scheme in the late 1960's.
After BN retired it in 1983 the unit was sold to the Central Vermont Railway 12/83 and became CV 4929, later sold to the Georgia Central Railway in November 1990. It has since been sold to RLIX and was working at the Port of Galveston, TX last I heard in 2011. This GP9 has certainly traveled around the country!