You are here: Home > Northern Pacific Section > BN 1846
BN 1846
NP Built GP9 1846
BN 1846 was built as the NP 220 in June of 1955, part of a group of NP GP9's numbered 218-237. These GP9's were delivered without dynamic brakes and had rooftop air tanks.
In 1969 the NP 220 was noted as being assigned to Auburn WA for general freight service. I have notes showing the 220 on various NP trains.
06-09-69 349/6020D/220 (GP9/F7A/GP9) At Auburn, WA
07-13-69 220/5410C/5409D (GP9/FT B-A) At Auburn, WA
09-20-69 3600/3623/2509/331/220/6019B/6017B/250/337 (2 SD45/U25C/2 GP9/2 F7B/2 GP9) Train #603 arriving at Auburn
Not many photos of the NP 220 in books or on the internet, just one found so far on rrpicturearchives:
http://www.rrpicturearchives.net/showPicture.aspx?id=2502399
I saw the NP 220 again about 3 weeks after the BN merger at North Bend, WA 3-22-70 tied up on the North Bend local with NP caboose 10305.
The NP 220 was eventually renumbered to BN 1846 and continued to be assigned to Auburn, WA where I first saw it on 12-13-70, still in NP paint but a BN number.
Eight years later I took my first photo of the 1846 in Seattle on a southbound BN local 12-28-78.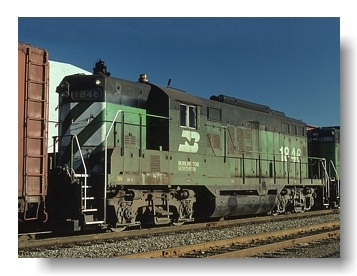 Things I noticed were the NP steam bell on the short hood roof, and the missing louvers on the carbody which means that the NP 220 was repainted to the NP's "simplified scheme" before the BN merger.
My next photo of the BN 1846 was of the GP9 leading the westbound North Bend Turn with units 1846/845/1799 (GP9/F9B/GP9) between Maple Valley and Renton, WA 4-16-81.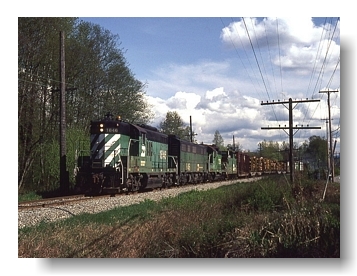 Two days later on 4-18-81 I caught the 1846/1799 heading south through Argo in Seattle on the Auburn-Everett Turn headed back to Auburn with one car and caboose 10361.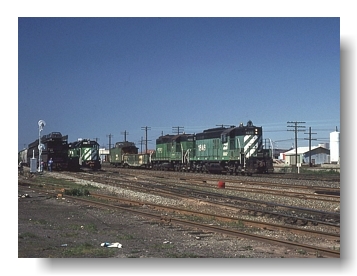 That same day I continued down to Auburn and photographed the 1846 in the ex-NP engine facility.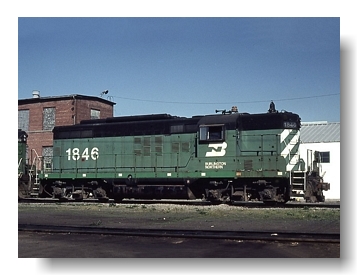 I took my last photo of the BN 1846 on 5-31-81 as the GP9 was by itself northbound out of South Seattle, WA on Crew 12.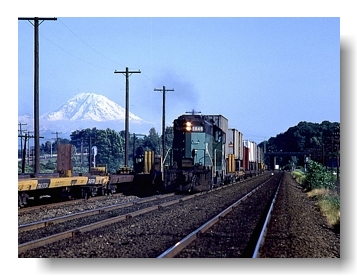 The BN 1846 was noted as being retired by BN in June of 1985. Soon after it was sold to the Pend Oreille Valley Railroad in North Eastern Washington state becoming the POVA 101. Here is a 1986 rrpicturearchives photo of the POVA 101 at Newport, WA wearing new red and gray paint:
http://www.rrpicturearchives.net/showPicture.aspx?id=4690406
And it still has those missing louvers from the NP simplified scheme! I regret never having gone up to the POVA to photograph the 101 or the other ex-NP GP9 that they have. I did contact the POVA recently and was told that the 101 was retired and scrapped years ago so it is no longer on their roster.