You are here: Home > Northern Pacific Section > BN 1756
BN 1756
BN GP9 1756 was built as the NP 346 in January of 1958.
It was one of six new GP9's equipped with dynamic brakes numbered NP 345-350. They were all noted as being assigned to the Rocky Mountain Division at Livingston in 1969. I saw the NP 346 at Auburn, WA on 5-19-69 after it had arrived there on a westbound earlier in the morning. That train had units 7003A/346/7004C/3605/379 (F9A/GP9/F9B/SD45/GP18) for quite a mix of locomotives. The 346 was noted as leading eastbound the next morning, 4:10 AM through Easton, WA so quite likely it led train #600 back towards Livingston.
After the 1970 BN merger the NP 346 was renumbered to BN 1756 and remained assigned to Livingston.
Though I never photographed the BN 1756 D.L. Zeutschel did and has allowed me to share his photo here: BN 1756 at Livingston, MT 3-24-81.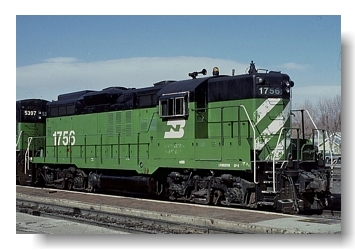 Photo by D.L. Zeutschel. Used with Permission.
The photo shows the 1756 has all the long hood louvers intact so this GP9 never received the NP's simplified scheme since a set of the louvers were removed for the simplified lettering to fit correctly.
The 1756 was retired by BN in July 1982, traded in to GE and then scrapped.