You are here: Home > Northern Pacific Section > BN 1748
BN 1748
BN 1748 was built 2/57 as NP 310 and assigned to the Rocky Mountain Division at Livingston, MT.
The 310 was one of a group of Northern Pacific GP9's numbered 305-316 and all were built in 1957 with dynamic brakes. Here are a few photos of the NP 310 on rrpicturearchives that show it in the as delivered scheme:
http://www.rrpicturearchives.net/LocoPicture.aspx?id=164230
After the BN merger the NP 310 was renumbered BN 1748 and remained assigned to Livingston, MT for maintenance.
On a train trip to Livingston in April 1974 I noted the BN 1748 from Amtrak train #9 at Butte, MT 4-11-74 while headed home. The consist in the yard was BN 1748/2208/2216 making me wonder what local this set was off of. The GP9 was BN green by this time.
I never photographed the BN 1748 myself but DL Zuetschel did and here is a photo taken at Helena, MT 2-27-83 used with permission.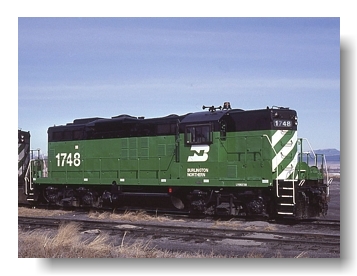 All the louvers along the carbody are intact telling my this GP9 was never repainted into the simplified NP scheme before the BN merger.
The 1992 BN Annual shows that the 1748 was still on the BN roster and assigned to Springfield, MO. After the BNSF merger the BN 1748 was renumbered to BNSF 1604 in June of 1998 and repainted into Hi paint. Photos from rrpicturearchives show the 1604 working in IL and TN during 1999.
http://www.rrpicturearchives.net/LocoPicture.aspx?id=95017
Not long after this the 1604 was retired in June of 2000. No info is available as to its disposition after the BNSF.