You are here: Home > Northern Pacific Section > BN 1744
BN 1744
MRL GP19-1 151 was rebuilt from MRL GP9 1744 in June of 1991.
Originally built as Northern Pacific GP9 306 in February of 1957 it was assigned to the Idaho Division while in service for the NP. After the BN merger in 1970 the 306 was renumbered BN 1744. I was a bit surprised to find out I saw it on the Stampede Pass line at Easton, WA 1-31-71 in the consist of BN train #174. BN units 6469/1744/1777/846/1842/1866 led that days train and the 1744 was still in NP colors.
Eventually it was repainted BN green but I did not see the 1744 again in service while it was on the BN. At the startup of MRL in 1987 the 1744 was acquired and had its BN markings painted out but kept the number 1744 with small MRL initials.
On my first trip to see the new MRL in 1988 I photographed the MRL 1744 leading the westbound Paradise Local at Woodlin, MT 2-19-88 as it was arriving at Thompson Falls, MT with the MRL 1732 trailing. Note the caboose is in the middle of the train.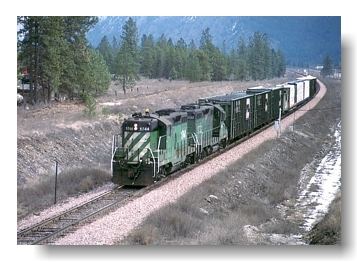 After arriving at Thompson Falls the MRL local took the siding to meet westbound BN freight #195 which had cars to drop off for the local. Here the 1744 waits in the Thompson Falls siding.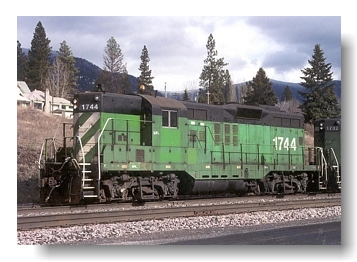 The 1744 was chosen to be upgraded and rebuilt into a GP19-1 (though still with 1750 HP) and entered service as the MRL 151 in June 1991. From the front end it hardly resembled a GP9 and even the rear carbody was raised somewhat making it quite different. While MRL planned to rebuild other GP9's this was the only unit done making it one of a kind.
On Oct 14, 2000 I got to ride behind the 151 on a fall colors special from Sandpoint, ID to Plains, MT and return. The train had 12 cars and was pulled by units 151/109 (GP19-1/GP9) eastbound. Here the train sits at Plains, MT after unloading the passengers.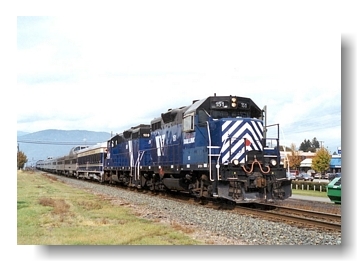 I saw the 151 a few times after the 2000 trip but did not take any more photographs of this unique locomotive. On the evening of Wednesday June 25, 2008 the 151 was leading a local at Huntley, MT and struck a cut of cars sending one crewman to the hospital with minor injuries. The 151 received extensive front damage when one of the cars climbed up onto it as well as a bent frame. Word is it has been moved to Livingston to be scrapped.