You are here: Home > Northern Pacific Section > BN 1725
BN 1725
BN GP9 1725 was built as the NP 287 in February of 1957.
It was one of 20 NP GP9's numbered 285-304 delivered by EMD in 1957. These twenty GP9's were delivered with dynamic brakes for use in NP's mountain territory. Almost all from this order were assigned to the Rocky Mountain Division based out of Livingston, MT.
My notes say I never saw this GP9 before the BN merger. After the March 1970 merger the NP 287 was renumbered BN 1725 and remained assigned to Livingston, MT I first saw the BN 1725 on 4-9-74 from Amtrak train #10 at Bozeman, MT. It was headed west on a local freight with units 1997/1725/1760 (GP18/GP9/GP9) All three units were BN green.
My first photos of the BN 1725 came on 5-28-83 with the BN's Paradise Local headed eastbound crossing the Pack River Fill between Sandpoint and Hope, ID.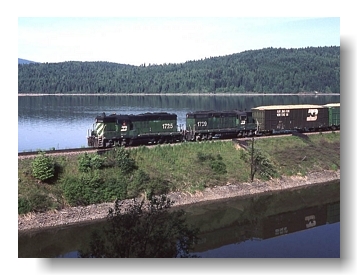 The last photo of the 1725 closeup shows all of the carbody louvers intact meaning that this GP9 never got NP's simplified paint scheme.
At the startup of the MRL in October 1987, a number of BN GP9's went to the new regional, including the BN 1725. It was soon relettered to MRL 1725. Larry Zeutschel photographed the MRL 1725 at Bozeman, MT 1-1-88 and has allowed the use of his photo here.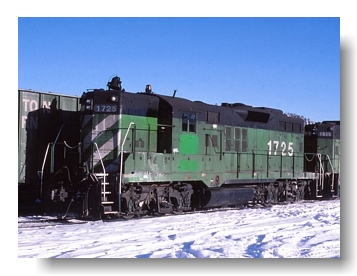 Photo by Larry Zeutschel
This image has to be one of the rarest of the rare as the MRL 1725 was destroyed on the BN at Marsh, MT (2 sidings west of Glendive) one week later on 1-7-88 along with MRL GP9 1904. Both were scrapped at Glendive, MT. Apparently MRL's Livingston shops did not have wheel truing equipment so MRL locomotives had to be sent to Glendive for any wheel work. This is why the 1725 and 1904 were on the BN. No details on the accident but both were demolished enough BN replaced these two GP9's in kind with BN 1897 and 1717.