You are here: Home > Northern Pacific Section > BN 1711
BN 1711
BN GP9 1711 was built 2/55 as Northern Pacific 211, one of ten GP9's built for the NP numbered 204-213. All were built with Dynamic Brakes.
The 211 was assigned to the Rocky Mountain Division out of Livingston, MT.
After the March 1970 BN merger the NP 211 was renumbered to BN 1711 and continued to be assigned to Livingston, MT.
On an April 1974 trip to Livingston, MT I saw the BN 1711 in a locomotive set of 830/5709/1711/1975 (F9A/U33C/GP9/GP9).
This photo of the BN 1711 was taken at Helena, MT 1-27-80 and the fading BN green shows the last NP scheme the GP9 wore.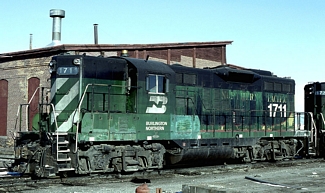 Photo by D.L.Zeutschel
Brian Ambrose Collection
By 1983 the 1711 received a chopped nose as this trainpix.com photo from Spokane, WA shows.
http://archive.trainpix.com/bn/EMDORIG/GP9/1711.HTM
In 1992 a Texas Shortline between Presidio and San Angelo started up called the South Orient RR. BN GP9 1711 was leased by the shortline in 1995 until 1997 when the GP9 suffered an electrical fire. The 1711 was then purchased by the South Orient and used as a parts source. In 2003 it was donated to the railway museum of San Angelo, TX where it sat for years in BN green. In October 2007 the 1711 was repainted as the South Orient 103 and is now on display at the museum. Complete info can be found here:
http://railwaymuseumsanangelo.homestead.com/gp9.html