You are here: Home > Northern Pacific Section > BN 1700
BN 1700
BN 1700 was built as NP GP9 200 in June of 1954.
It was the first unit of a NP order of four EMD GP9's numbered 200-203 and delivered in 1954. These four units were purchased for use on the Camas Prairie Railroad and were delivered with dynamic brakes and winterization hatches. Despite early problems with the new GP9's, the NP would go on to place multiple new orders for the 1750 HP GP9 through 1958.
After the 1970 BN Merger the NP 200 was renumbered to BN 1700 and remained assigned to the Camas Prairie into the mid-1970's and soon painted BN green.
Apparently the 1700 was quite elusive, I never saw or photographed it and I have been unable to find any photos of this GP9 online.
But I did purchase a slide of the BN 1700 on eBay which shows it at Helena, MT 3-5-82. The slide also shows it assigned to Hillyard, WA for maintenance.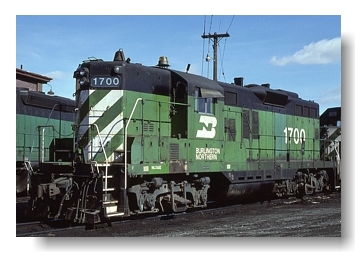 D. L. Zeutschel photo
Brian Ambrose collection
The 1700 was retired by the BN in October of 1982, traded in to GE that same month and later scrapped.