You are here: Home > Northern Pacific Section > BN 1640
BN 1640
BN 1640 was built by EMD in December of 1953 as Northern Pacific GP7 566.
Of the 20 GP7's NP ordered numbered 550-569 the last six (564-569) were delivered with dynamic brakes. These six were assigned to the Rocky Mountain Division at Livingston, MT up to the time of the BN Merger in March 1970.
The NP 566 was renumbered BN 1640 and continued to be assigned to Livingston, MT and was soon painted BN green.
On a train trip to Livingston, MT in 1974 I noted the 1640 at Missoula, MT on the return trip 4-11-74.
This photo of the BN 1640 shows the GP7 at Helena, MT 4-5-78.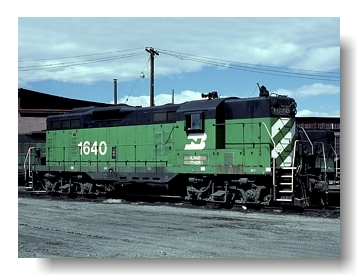 D L Zeutschel photo
Brian Ambrose collection
The 1640 was retired by the BN in August of 1983. It was sold to PNC who scrapped the GP7.