You are here: Home > Northern Pacific Section > BN 1637
BN 1637
BN 1637 was built as Northern Pacific GP7 563 in December of 1953.
NP 563 was one of 10 GP7's NP ordered in 1953 and numbered 560-569. The first four (560-563) were ordered without dynamic brakes and assigned to the Idaho Division after delivery. NP Pictorial Volume 3 shows the 563 assigned to Pasco, WA as a switcher in 1969. So far I have been unable to find any photos of the NP 563 in the later NP years to see if it was ever painted into NP's simplified scheme.
At the March 1970 BN Merger the NP 563 was renumbered to BN 1637 and left the NP's Idaho Division for the BN's Seattle Division at the former NP shops in Auburn, WA. My first sighting of the BN 1637 came on 12-26-70 at Auburn, still in NP paint. It was eventually painted BN green and on 5-28-75 I photographed the 1637 at Auburn, WA.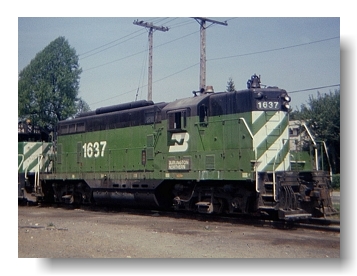 While the slide was taken with a primitive Instamatic camera it does show some details worth noting. First is the steam era locomotive bell from a retired steam engine is still intact on the GP7. Also note the metal plate under the cab with "BURLINGTON NORTHERN" spelled out on it. This was used because there are louvers underneath that made painting the lettering difficult. There also appears to be a single chime air horn on the cab roof.
Less than 4 years later I photographed the 1637 again, this time at Tacoma, WA with a new 35mm camera on 1-18-79.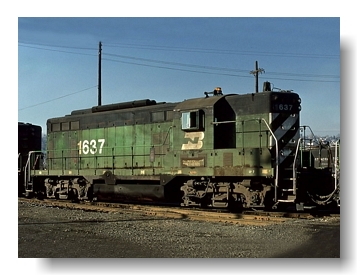 The steam era bell is gone, replaced with something a bit more modern. Also note that the metal skirting above the fuel tank has been removed. The 1637 was nearing 30 years old when BN retired it in July of 1982. Information shows it was used as a trade in to GE later that same year and was probably scrapped soon afterwards.