You are here: Home > Northern Pacific Section > BN 1625
BN 1625
BN GP7 1625 was built as NP GP7 551 and assigned to St Paul when delivered in 1950.
NP ordered their first two GP7's numbered 550-551 for passenger service between St Paul and International Falls, MN. Both were equipped with steam generators for use on trains 11 and 12 until NP ordered two new FP7's to replace them.
By 1969 NP 551 was assigned to Pasco, WA and kept the original "canoe" paint scheme.
After the BN merger it was assigned number 1625 and remained assigned to Pasco. Here is a photo of the 1625 at Pasco, WA in 1971 still in NP paint.
http://www.rrpicturearchives.net/showPicture.aspx?id=217372
I first saw the BN 1625 on 4-8-74 while riding Amtrak train #8 through Pasco. My notes say it was still in NP paint.
Rebuilding of the 1625 to BN GP7u 1426 at West Burlington, IA came in September 1976. After rebuilding the 1426 came straight to Western Washington where I saw it 10-8-76 at Interbay on train #146 arriving with units 2518/4191/1426/2223/2222 (GP35/RS11/GP7u/2 GP30)
Here is the BN 1426 at Black River, WA 1-22-80.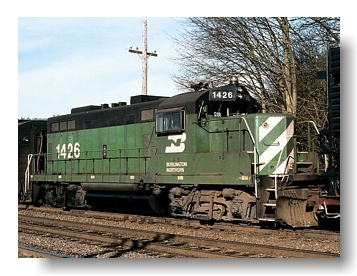 BN 1426 at Auburn, WA 3-24-80.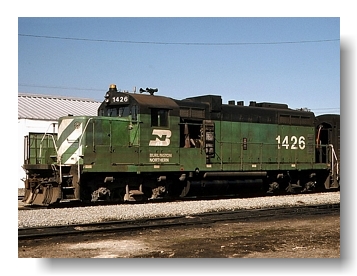 And one last photo of the 1426 at Interbay 6-6-81. The KCS SD40-2's are on BN for testing of fuel saving equipment.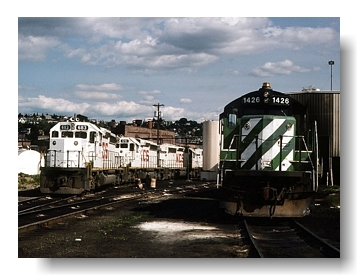 By 1988 the BN 1426 was reassigned to Northtown, MN where it remained until being retired in 1993. It was sold to shortline Nebraska Kansas Colorado Railway and repainted red and numbered 1.
http://www.rrpicturearchives.net/showPicture.aspx?id=2694838
There is no current info available as to if it is still in service today or not.