You are here: Home > Northern Pacific Section > BN 1994
BN 1994
BN GP18 1994 was built as the NP 380 in June of 1960. It was one of nine GP18's NP purchased numbered 376-384. These 1800 HP GP18's built by EMD were assigned to the Rocky Mountain Division based out of Livingston, MT, Around 1967 the 380 was equipped with radio control for mid-train helper service. U25C 2523 had equipment installed to control the GP18 back in the train.
On 9-18-68 I saw the 380 at Auburn, WA in a consist of 2523/2512/2520/380 (U25C/U25C/U25C/GP18) showing that the 2523 and 380 were still together in remote service. That equipment was later removed from the 380 and installed in a converted F7B before the BN merger.
After the March 1970 BN merger the NP 380 was renumbered to BN 1994 and remained assigned to Livingston, MT.
I first saw the BN 1994 on 7-4-82 while driving through Helena, MT and photographed it there as well.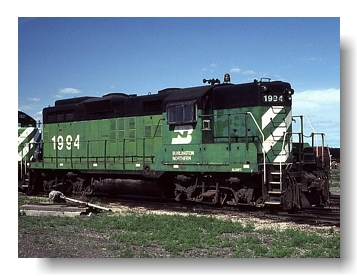 BN retired the 1994 in June of 1985 and it was sold to the Kentucky-West Tennessee Railway and became KWT 303:
http://www.geocities.ws/ryan_swor/rr/kwt.ht
The 303 from the photo has had the high short hood chopped.
And here is video from YouTube showing the KWT 303 in service back in 2008:
https://www.youtube.com/watch?v=NBK0ACw9Wo0
There is no current info available on the KWT 303/ex-BN 1994 after 2008.