You are here: Home > Northern Pacific Section > BN 823
BN 823
BN 823 was built as Northern Pacific F9B 7005C in October of 1954 as a set of four A-B-B-A F9's and went to the Rocky Mountain Division for assignment. All of the NP F9's were assigned to this division nearly all the time they were on the NP. Later the sets were broken up and the single units were mixed with other locomotives. Sometime before the BN merger the 7005C was repainted into NP's simplified scheme. Kevin Piper recently posted a photo from his collection showing the an early BN freight at Minneapolis, MN on 7-5-70, and the second unit was the 7005C, the first photo I have ever seen of the 7005C in this scheme.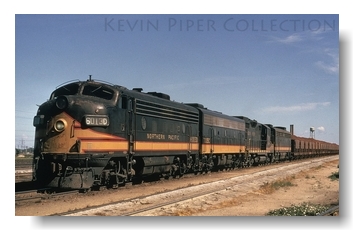 Kevin Piper collection
Sometime after the March 1970 BN merger the NP 7005C was renumbered BN 823 and reassigned to the Twin Cities Region at Minneapolis Jct.
My notes say I first saw the BN 823 at Auburn, WA 3-24-73 in a set of 5705/847/823/725/C&S 901 (U33C/F9B/F9B/F7B/SD40-2) and these notes also point out that the 823 had a "solid stripe" which no doubt meant to be the simplified scheme. Only took 44 years to discover this!
By 1975 the 823 was assigned to Grand Forks, ND and was probably repainted BN green by that time.
The 823 later came west as I photographed it at the ex-NP diesel shop at Auburn, WA 6-5-77.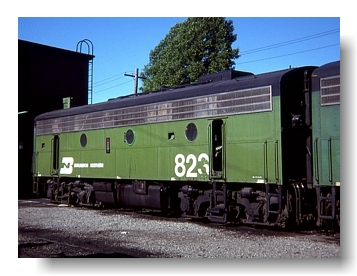 I photographed the 823 again on 7-12-80 at Interbay, WA in the ex-GN locomotive facility.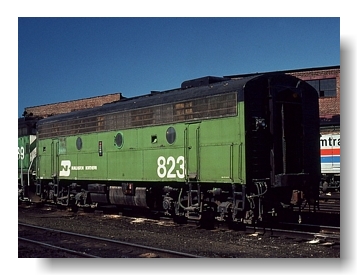 BN 823 was retired in September 1982 and was a trade-in into GE soon after, leaving the BN roster for scrap.