You are here: Home > Northern Pacific Section > BN 807
BN 807
The BN 807 was built as the Northern Pacific 7001C, an EMD F9B in a 4 unit set of 1750 HP F9's numbered 7001A-B-C-D totaling 7000 HP as a set.
Both the 7000 and 7001 sets of A-B-B-A F9's were delivered in January of 1954 and were first sent to Livingston to be set up and then went on to Auburn where they worked the Auburn to Livingston pool being assigned to the Rocky Mountain Division at Livingston into 1969.
In looking at my notes, I never saw the 7001C in Western Washington before the BN merger.
After the BN merger in March 1970 the NP 7001C was renumbered BN 807 and sent west to Interbay, WA where it was assigned for maintenance at the ex-GN facility. My notes show my first sighting of the BN 807 was on 12-13-70 on an eastbound train leaving Auburn, WA for Stampede Pass with the 6619/2505/806/807/734/2501/1874 (F45/GP35/F9A/F9B/F7A/GP35/GP9) and of these just the 6619 wore BN green, everything else was in pre-merger colors.
The next time I saw the 807 was on 8-23-71 at Easton, WA when a Dead Freight West stopped to do work before crossing Stampede Pass with units 2513/807/841/694 (GP35/F9B/F9B/F7A) but this time the 807 wore BN green.
I found it interesting that for being assigned to Interbay, the 807 was spending a lot of time working out of Auburn, WA. One time I did see the 807 at Interbay was on 3-9-75 on the Ferndale Turn after it arrived with units 2510/807/2514/1809 (GP35/F9B/GP35/GP9) (interesting how the 807 seemed to attract GP35's, and all of the ex-GN!).
Now for some photos. Here is the BN 807 at Interbay on 8-3-78.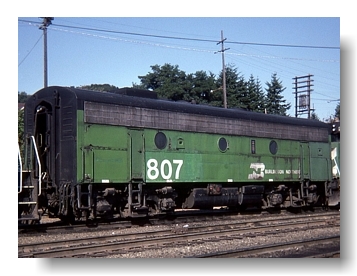 Note the F9B has all three of its portholes and notice the the 8 is crooked.
I mention that as my next photo of the 807 came on 5-11-80 at South Seattle and it looks to have had some bodywork done as well as a repainting.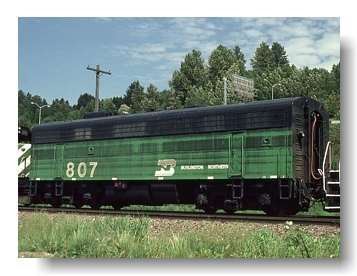 The portholes are gone and the 8 is slanted the opposite direction as it was before!
My last photo of the 807 was taken 2-5-81 at Interbay showing the other side of the F9B. And here the 8 appears to be slanted in as well.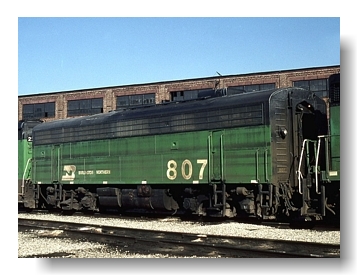 Less than 2 months later on 3-29-81 the 807 along with sister F9B's 803 and 805 went into storage. The 807 was retired in August of 1982 and traded into GE who later had it scrapped.