You are here: Home > Great Northern Section > BN 5702
BN 5702
BN 5702 was built as GN U33C 2532 in May of 1968. It was one of the first group of nine U33C's GN ordered with all being delivered in Big Sky Blue paint and numbered 2530-2538.
There is a photo of the GN 2532 on page 45 in the Great Northern Color Pictorial #2. The GN U33C's were assigned to Lines West - Montana Division.
After the March 1970 BN merger the GN 2532 was renumbered BN 5702 and was assigned to Livingston, MT for maintenance along with the other U33C's from the 5700-5714 group.
On 8-17-78 I photographed the 5702 at Interbay, WA after it led a westbound into Interbay long end first.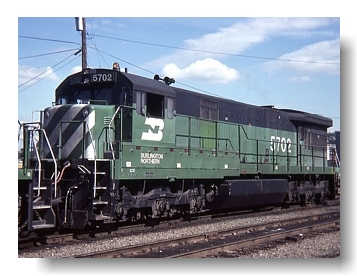 BN 5702 continued working in mainline service until it was retired 9/83 and scrapped.