You are here: Home > Great Northern Section > BN 5701
BN 5701
GN Built U33C 5701
BN 5701 was built by GE as Great Northern U33C 2531 in June of 1968. It was the second unit from the first group of nine U33C's GN ordered. All were delivered in Big Sky Blue paint and numbered 2530-2538.
My notes show I saw the GN 2531 on 8-9-69 leading a westbound out of Skykomish, WA with units 2531/2537, both U33C's.
After the March 1970 BN merger the GN 2531 was renumbered to BN 5701 and found itself assigned to NP territory at Livingston, MT.
While I never got to see the 5701 myself it did pass through Easton, WA leading trains a number of times in Match 1971. The Easton Station Record of Train Movements booklet for March 1971 shows the 5701 leading trains east and west starting March 8 up to March 18 six different times through Easton. That last time headed west at 943a in the morning on 3-18-71 is shown here: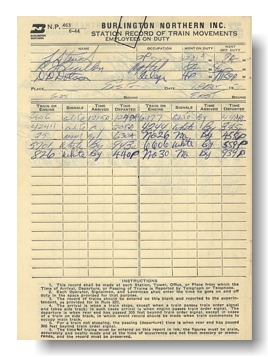 Ten days later on 3-28-71 there was a tragic collision when the BN 5701 East struck a cut of standing cars while arriving at Sheridan, WY during a snowstorm at 1:20 AM fatally injuring two of the crew. The train was Second 188 running from Laurel to Sheridan with units 5701/6457/6482 (U33C/SD45/SD45)
The DOT has a detailed accident report on the collision that sadly took the lives of the trains engineer and Fireman. It can be found here:
http://dotlibrary.specialcollection.net/Document?db=DOT-RAILROAD&query=(select+3949)
Conductor Glynn (Glen) Coster took photos showing the derailed 5701 and his granddaughter Glynna Beeson has allowed me to share the photos that he took. Note that the 5701 was still in Great Northern's Big Sky Blue when it was wrecked: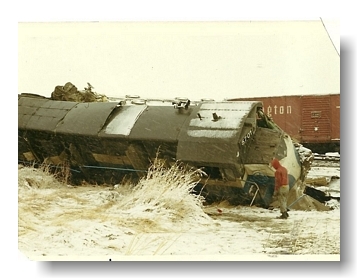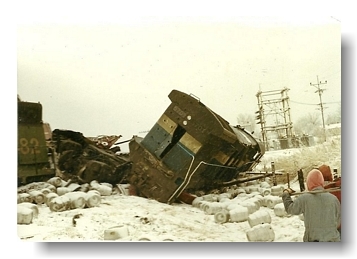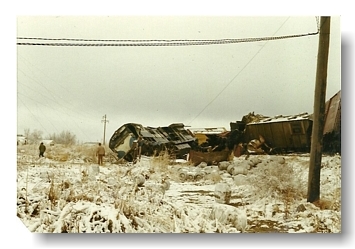 Some years later on 4-11-74 I was passing through Livingston, MT and photographed this rear portion of a former GN U33C. At the time I did not know where it had come from but now it is rather apparent that it is off the BN 5701 which was retired and scrapped after the collision.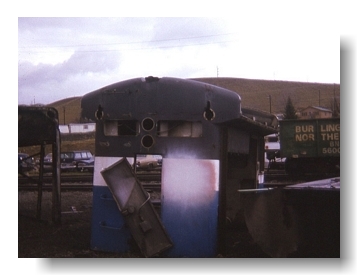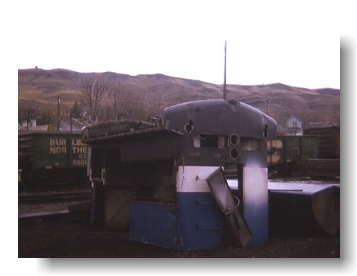 The BN 5701 was built in June 1968 and retired in 1971, in service for less than three years.