You are here: Home > Great Northern Section > BN 152
BN 152
BN 152 was built in May of 1951 as Great Northern SW9 #20. There were 10 SW9's on the GN roster but the first three were built in Canada earlier. The GN 20 was one of seven EMD SW9's delivered in the classic Empire Builder scheme and it was assigned to Lines west - Montana Division which was probably at Havre, MT. These seven were also equipped with Flexicoil trucks, a feature the earlier three SW9's did not have.
I have not seen any photos of the GN 20 in the simplified scheme or Big Sky Blue so it is probably it kept the original GN scheme into the March 1970 BN merger. After the BN merger the GN 20 was renumbered to BN 152 and remained assigned to Havre, MT.
I went 12 years never having seen the 152 until 7-4-82 on a trip through Montana and found it on the ex-NP at Billings, MT. Here it sits in the company of SW1200 164, another former GN switcher at the Billings yard.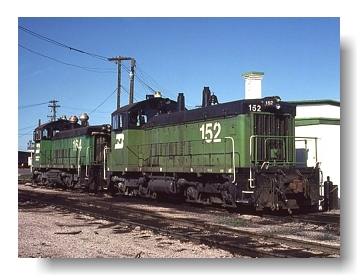 I also took a closer roster shot of the BN 152 as well. Note the "Havre" stencil on the front side sill plus the Flexicoil trucks.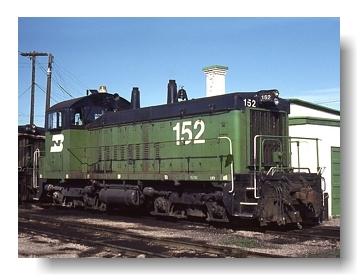 The BN 152 was retired three years later in October of 1985 and scrapped at Parkwater (Spokane, WA) in August of 1986.