You are here: Home > Great Northern Section > BN 308
BN 308
BN 308 was built as the GN 208 in October of 1967, part of an 10 unit order of SW1500's for the Great Northern.
Delivered in Big Sky Blue the first five units (200-204) were assigned to Spokane, WA and the last five (205-209) to Minneapolis. Here is a photo of the GN 208 from rrpicturearchives showing it at Minneapolis, MN in 1968:
http://www.rrpicturearchives.net/showPicture.aspx?id=4660933
After the March 1970 BN merger the GN 208 was renumbered to BN 308 and continued to be assigned to the Minneapolis area and was later painted BN green.
I first saw and photographed the BN 308 at Northtown Yard on 7-20-93. Here it is paired up with SW1000 431.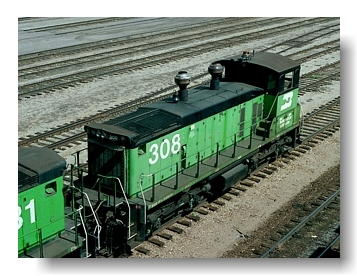 After the BNSF merger the BN 308 was renumbered to BNSF 3454 and painted into H1 paint. From Minneapolis it went to Sioux Falls, SD up to late 2008 when it returned to Minneapolis early in 2009 and straight into storage. By 2011 it was moved to Galesburg, IL and retired by the BNSF.
The 3454 was then sold to the ITSL, painted red and black and leased to the KCS at the Dallas, TX intermodal ramp as the ITSL 3454:
http://www.rrpicturearchives.net/LocoPicture.aspx?id=165100
The reporting marks were changed to ITSX (ITS Technologies and Logistics) by 2014 and the SW1500 remains at the Dallas intermodal ramp today.