You are here: Home > Great Northern Section > BN 304
BN 304
BN 304 was built as the GN 204, part of an 10 unit order of SW1500's for the Great Northern in October of 1967. Delivered in Big Sky Blue the first 5 units (200-204) were assigned to Spokane, WA and the other 5 to Minneapolis.
Here is a photo from the Kevin Piper collection of GN 204 at Spokane, WA in 1968, used with permission.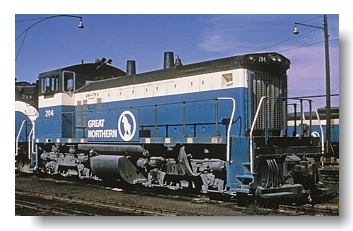 After the BN merger in 1970 the 204 was renumbered BN 304 and continued to be assigned to the ex-GN at Hillyard in Spokane.
On a trip through Spokane on Aug 4, 1971 I stopped at Hillyard where I noted the BN 304 was already painted BN green along with the other four GN built SW1500's 300-303 also assigned there. Not surprising as the Hillyard shops had a paint booth so the power assigned there would be some of the first to be repainted. After Hillyard closed the 300-303 stayed in Spokane being assigned to the ex-NP Parkwater shops while the 304 moved west to Seattle assigned to the ex-GN at Interbay so I saw and photographed it a number of times.
This photo of the 304 was taken on 7-19-78 at Interbay.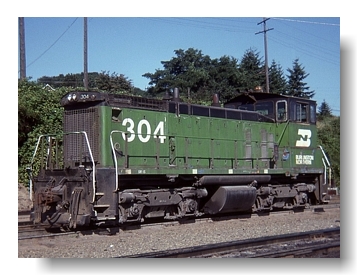 Note how some of the original GN blue is showing through. I photographed the BN 304 again at Stacy St Yard in Seattle 6-17-87 with a lot more of the Big Sky Blue now showing through.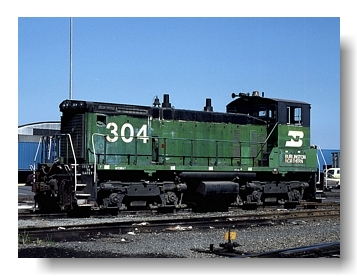 There was very little change for the 304 until after the BNSF merger in 1995. The 304 was renumbered without being repainted to BNSF 3450 in April 1998 and continued to call Seattle home. A popular assignment seemed to be Job 120 working the garbage transfer at Rabanco south of downtown. Here the 3450 still in BN green switches at Rabanco 8-12-98.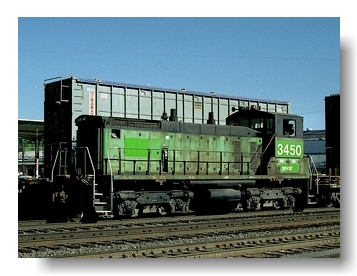 The 3450 was repainted H1 in February 2000. One of my first photos of the 3450 was this rear end roster in Seattle 3-29-00 showing how the paint appeared on the rear of the H1 SW1500.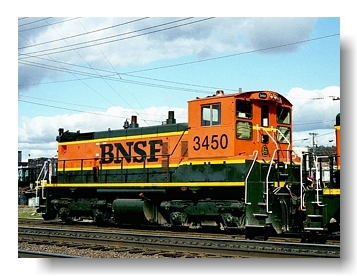 Kind of ironic that an ex-GN locomotive delivered in Big Sky Blue would later be painted in the older GN colors of orange and green. Here Job 120 is northbound at Galer St just south of Interbay on 4-17-00 with a garbage transfer led by SW1500's 3450/3453, both being ex-GN SW1500's. The 3450 the 204 and the 3453 the former GN 207.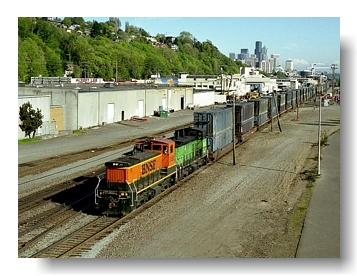 On 4-20-00 I rostered the BNSF 3450 at Galer St as it waited for clearance to enter Balmer/Interbay yard where the power would tie up.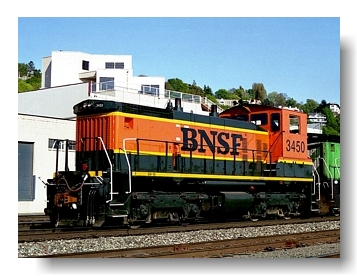 Sometime between 2011 and 2012 the BNSF 3450 was retired and shipped east to Mayfield, KY. No information on the 3450 is available after that.