You are here: Home > Great Northern Section > BN 300
BN 300
BN SW1500 was built as GN 200 9-67.
The 1500 HP EMD was delivered in Big Sky Blue paint and assigned to Lines West - Spokane Division in 1969. I never made it to Spokane to see the GN 200.
But after the BN 1970 merger the switcher was renumbered to BN 300 and assigned to Hillyard, WA. On 8-4-71 I did stop by Hillyard and the 300 was there, already in BN green.
On 4-7-81 I was again in Spokane where I photographed the BN 300 at Hillyard in a switcher set of BN 320/300/321.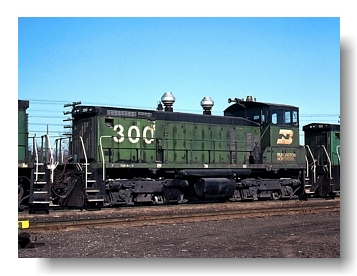 Note it has been restencilled for maintenance at Parkwater in Spokane. It is probable Hillyard shops were closed by this time but transfers moved from Parkwater to Hillyard and the three switchers were used in this service at the time.
The 300 was still on the BN roster at the time of the BNSF merger and renumbered BNSF 3446. Most photos have it working in the Birmingham, AL area in 2008. It kept the BN green up to retirement when it was sold to ITSL 3446, (later changed to ITSX 3446) where it works in Texas, now painted red:
http://www.rrpicturearchives.net/LocoPicture.aspx?id=197276