You are here: Home > Great Northern Section > BN 164
BN 164
BN SW1200 164 was built April 1957 by EMD as Great Northern 31.
Five SW1200's numbered 29-33 were built at the time and assigned to the GN's Dakota Division.
There is a photo of the 31 at Williston, ND on page 41 of the Great Northern Color Pictorial Vol 1 by Shine.
After the 1970 BN merger the GN 31 was renumbered to BN 164 and assigned to Grand Forks, ND. By 1976 it was assigned to Dilworth.
First time I saw the 164 was at Billings, MT on 7-4-82 as a local switcher.
Later it was reassigned out west to Interbay where I photographed it on 8-26-93 switching the Rabanco garbage facility in Seattle.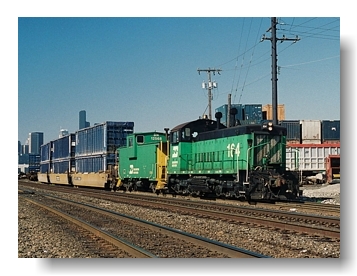 And a roster photo of the 164 the same day showing the Flexicoil trucks it was delivered with.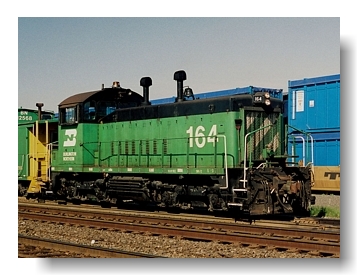 The following year I photographed the 164 again working at Rabanco in Seattle on 7-6-94 proving that it was still working hard 34 years after being built!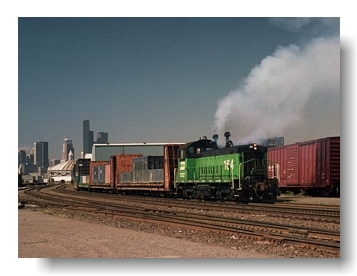 After the BNSF merger the BN 164 was renumbered BNSF 3547 and painted in H1 colors.
Here it is seen in Seattle on 8-16-00 headed for Interbay.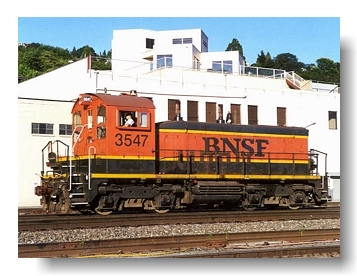 BNSF 3547 was retired and sold to Burlington Junction Railway. Last photo I can find of it was taken in 2011, still in HI paint but the BNSF lettering painted out.
http://www.rrpicturearchives.net/locopicture.aspx?id=152139
There is no info on the SW1200 after that.