You are here: Home > Great Northern Section > BN 163
BN 163
BN 163 was built by EMD 4/1957 as SW1200 30 for the Great Northern.
In all GN ordered five SW1200's numbered 29-33. All were delivered in the classic Empire Builder scheme. The 29-32 were all assigned to Lines East - Dakota Division in 1969.
After the March 1970 BN merger GN 30 was renumbered to BN 163 and assigned to Grand Forks, ND for maintenance.
In this photo by D L Zeutschel the BN 163 still wears the classic Empire Builder scheme. Photo was taken at Minot, ND 9-20-76.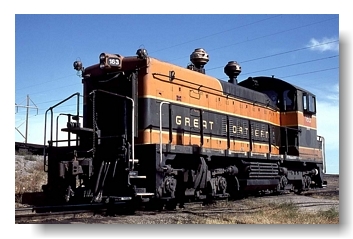 D L Zeutschel photo
Brian Ambrose collection
In this photo from CNR photos the 163 is in green BN paint at Grand Forks, ND 9-6-93.
http://www.cnrphotos.com/gallery2/main.php?g2_itemId=86328
The goatlick site has a 1999 photo of the 163 at Grand Forks, ND.
http://www.goatlick.com/chasing/forks/jul99.htm
According to the QStation BNSF repaint guide the BN 163 was renumbered to BNSF 3548 in September 1999. It was painted into the BNSF H1 scheme in Jan 2000.
From rrpicturearchives is this image of the BNSF 3548 at Wilmar, MN in 2002.
http://www.rrpicturearchives.net/showPicture.aspx?id=1588831
The BNSF 3548 was retired sometime after 2003 and sold to NRE where it became the NREX 3548, still in BNSF H1 paint but with the BNSF markings painted out. The last known photo shows the NREX 3548 on the CSX at Terrance City, AL in 2008.
There is no info on the 3548 after that.