You are here: Home > Great Northern Section > BN 6121
BN 6121
BN SD9 6121 was built 4/58 as the Great Northern 694.
The 1750 HP EMD was delivered in GN's Empire Builder scheme. It went straight from this to Big Sky Blue. In 1969 it and SD9 593 were both assigned to the Dakota Division, the only two SD9's assigned to this Division.
After the 1970 BN merger it was renumbered to BN 6121 and assigned to Grand Forks, ND eventually getting BN green paint.
By 1993 the SD9 was assigned to Northtown, MN where I saw and photographed it on 7-20-93 working Northtown Yard.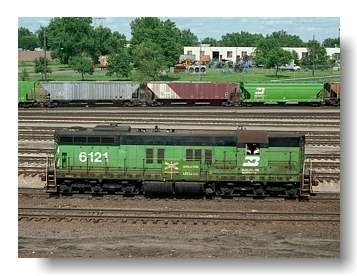 Note the handmade "Operation Lifesaver" sign on the handrails.
The 6121 was still on the roster after the BNSF merger and was relettered BNSF 6121 in November 2001. It was retired in June 2004. No information is known about the 6121 after this.